Become a Stronger Rider by Commuting
Loving the Commute Series
by Aaron Madrid
I have a secret to tell… I want to be a racer.  In fact, this fall I plan on competing in my first race at the Mass Ave Crit in Indianapolis.  I have some friends that are coaches, and hope to take advantage of their services some day, but until then I am resolved to search the internet for tips and tricks.  The biggest challenge for my training has been finding the time to get in the rides I believe are needed to improve my riding.  That's when it occurred to me that I can just train on my commutes!
Unlike many commuters I speak to, I don't have the benefit of a long trail that takes me to work.  Most of my route, especially if I wish to make it work on time, requires me to share the road with the 4 wheelers of my fair city.  However, that has leant itself well to my training plan.  One thing I have noticed is a common suggestion for most training plans, regardless of your end goal, is the ever painful interval. In truth, intervals are actually much easier on my commute than on most of my other rides.  Thanks to stop signs and lights, I frequently have the opportunity to sprint my legs off for a good distance before sitting again.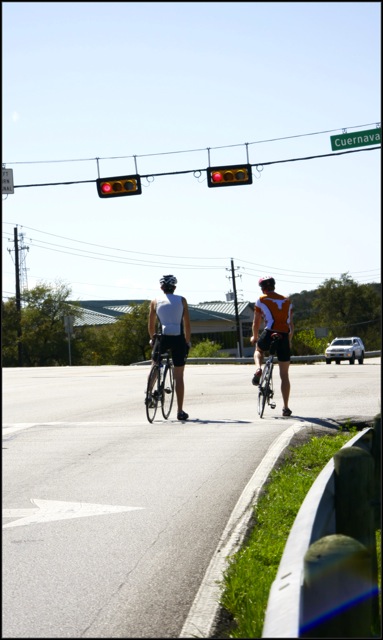 There is nothing I love more than pulling up to a stop light next to a moped, and then pouring my soul into the pedals as I sprint passed the driver when the light changes.  Of course, I don't always win, but it's a blast to try.  When I cross through town I try my hardest to stay out of the saddle from light to light so I am working on my endurance and power at the same time.  Obviously intervals require short breaks in-between bursts of work, but I find the lights usually comply well with my need to sit. The important thing to always remember is to stay aware. I have discussed at length the dangers of commuting.  Adding these intervals and a bit of focused training can actually create more danger for you if you aren't careful and still obey the laws of the road. I'm not sure if it's the look of anguish on my face or the sweat pouring from my brow, but I find when I am killing myself down a bike lane, drivers tend to feel my pain and give me a bit of a break.
Another thing I like to try to do is climb every hill I can find on the way to work.  I used to avoid the big nasties, but now I seek them out. Sometimes I will even take a longer route to work, just so I can test my legs on a big hill.  If you can tell your legs to shut up first thing in the morning as you climb, you can beat them every time.  Climbing is a great way to improve power and endurance as well, and has worked wonders for my riding.  It's a short ride in for me, but adding hills ensures I need the morning shower.
Handling skills have to be top notch if you plan to commute by bike.  You never know when you will have to slam the brakes or dodge a sudden pothole that seems to have opened up from nowhere in front of you.  Your reaction time can only improve as you focus on your surroundings and your intervals.  I have even learned the art of the bunny hop, though I have yet to use it for more than the occasional curb hop.
The final hidden benefit of training to race during a commute is all about the mental anguish.  As I mentioned, I have yet to compete, myself, but one thing I always hear the pros say is just how mentally exhausting racing is.  Commuting can be pretty darn mentally exhausting as well.  In fact, I like to think that the constant battle I wage with traffic on a commute is great preparation for the peloton ahead of me.  If you can ride a few feet from a speeding car or truck, you can ride closer to another cyclist, no problem.  Some people might say that pretending the car in front of me is my lead out at the Tour de France, might be an indication that my mental prowess is actually doing the opposite of improving, but I tend to disagree.  Be safe, keep a good head, and ride hard.