Loving the Commute: Commuter Profile – John Fry
For this month's Loving the Commute I decided to take a moment to talk with a fellow commuter. If you would like to be a part of Loving the Commute, I would love to talk to you, send me an email (aaronthestrong@gmail.com) or reach out to me via twitter (@Aaronthestrong).  John is a good friend and also helping me to start a local Cycling Advocacy group for our town.  Enjoy our little conversation about John's love of the bike and his commute!
Aaronthestrong: Who is John Fry and what kind of bike do you ride?
John Fry: I like Purdue sports, drinking beers, camping and talking about how to improve the town I live in. I ride a 1994 Trek 850 Mt. Track XC as my commuter – getting around town bike. That's possibly the world's longest name for a bike, so it's nicknamed 'The Goodwiller' because I bought it at Goodwill 2 years ago.
ATS: Why did you decide to start riding your bike to work?
JF: Truthfully, it was Twitter.  I follow a few organizations and people who talked about riding to work and I decided to go for it.  I was also looking for a consistent way to stay active, but never could find the time with 2 kids at home.  Riding to and from work seemed to be the easiest way to get exercise during the week.
ATS: What is your favorite part about commuting by bike?
JF: I like the feeling of starting the work day on a bike, it really gets you connected to were you live compared to boxing yourself inside a car.  Luckily, I can take two very different routes to work.  One is 100% on the road, the other is closer to 80% trails.  I can stop and look at the Wabash River, take pictures of Bald Eagles, get attacked by ducks and geese, wave at other walkers and bike commuters.  Or I can race cars over the bridge and mash it up Salisbury Hill if I want.
ATS: What is your least favorite thing about commuting?
JF: Nothing really.  I use to hate the hills, but now I love them. Sometimes I eat too much at lunch and feel too fat to ride a bike, but that's more of an eating problem than a commuting problem.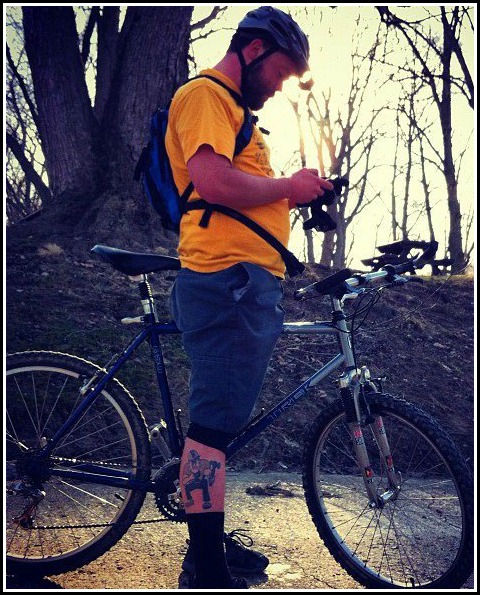 ATS: Commuting is just a means of transportation, what kinds of cycling do you like to do outside of commuting?
JF: I love mountain biking.  This past year I competed in the entire DINO Series.  I'm not very good (yet), but it helps keep me dedicated to riding for fitness, instead of just commuting or family rides.  I suggest everyone try at least one bike race in their life, I bet it won't be your last.
ATS: What is the best piece of advice about commuting you could give to someone thinking about starting to ride their bike to work?
JF: Don't give yourself any excuses not to go in the morning, get everything ready the night before.  Also, get a rack to carry your stuff.  I never did, but I still plan on it.
ATS: What's the deal?
John Fry: I know, right?  I've got a question for your readers.  I have a slick tire on the front of my commuter and a low tread MTB tire on the back.  One day I was riding and thought "Shouldn't I switch these around?"  Traction on the front, surface area on the back?
Thanks for joining me, John!  If you are interested in talking to John you can find him on twitter @ElectricElm.  I am always looking for new and exciting stories about commuting so if you have one, don't hesitate to reach out to me!  Thanks for reading and keep the rubber side down!
– by Aaron Madrid