Loving the BITE: A Double Shot of Sunflower Seed Recipes
Recently, while at my favorite Japanese restaurant and eagerly awaiting my sushi order, I was introduced to a wonderful broiled tofu appetizer.  It was good. But, I'm not here to talk about tofu.  I'm here to get you to eat more sunflower seeds.  Why? They are an energy-packing, delicious whole-food that gives a cyclist long-lasting energy, important minerals, antioxidants, and heart health.  Not bad for a seed.
Since then, I've been trying to recapture the appetizer's magic at home and add more sunflower seeds to my diet.  Here's where the story intertwines.  And, here's my best shot:
Recipe of the Week: Broiled Tofu with Sunflower Seed Teriyaki Marinade
Ingredients:
1 block tofu, extra firm
Sunflower Seed – Teriyaki Marinade:
1/3 C orange juice
3 Tbsp smooth sunflower seed butter (see Bonus Recipe below)
3 Tbsp sesame oil
3 Tbsp honey
2 Tbsp fresh minced ginger, or 1 tsp ground ginger
Instructions:
Mix the marinade ingredients together in a shallow dish.
Drain and rinse the tofu. Slice it in 1/2-inch thick pieces.
Place the tofu in the marinade. Let set for at least 30 minutes and up to overnight.   If possible, flip tofu while marinating.
Cover a baking sheet with foil. Lightly coat the foil with vegetable oil.
Place tofu on foil and broil 5-7 minutes on first side. Flip, cover with any remaining marinade and broil for 3-4 additional minutes on second side.  Watch carefully to avoid burning tofu.
Serve hot.
Comments:
Sunflower seeds aren't just for baseball games.  They are a wonderful snack, a flavorful addition to meals, and a great alternative to nuts (especially if needed due to allergies).
A handful of shelled sunflower seeds provides:
Vitamin E: Vitamin E is a powerful antioxidant.  It neutralizes free radicals and has anti-inflammatory benefits.  It reduces symptoms of asthma, osteoarthritis, and rheumatoid arthritis, and reduces risk of colon cancer and heart disease. In fact, one important function of antioxidants is reducing the oxidation of LDL cholesterol.  When LDL is oxidized, it can form plague in artery walls…when antioxidants intervene, it can't.
Phytoesterols: Phytoesterols are nutrients that can reduce blood cholesterol…these are the additives in margarine spreads such as "Benecol" that have been used for this purpose.  But why not just get them from the natural source?  Add nuts and seeds to your diet to get abundant phytoesterols and keep blood cholesterol at healthy levels.  What's more, they may reduce risk of some cancers and improve immune function.
Magnesium: Magnesium is a key nutrient for energy production and healthy bones.  Most any cyclist can use better energy production, so look for whole foods like sunflower seeds that contain it.  And, magnesium can also reduce symptoms of asthma, reduce high blood pressure, reduce migraine headaches, and reduce risk of strokes and heart attacks.
Selenium: Selenium is a mineral that is very important for overall health as it can promote damaged-DNA repair and reduce incidence of cancers and disease.  It also activates glutathione production, one of the body's most powerful antioxidants.  For the cyclist, this means less cell damage and healthy, functioning cells.
Protein: Like many seeds and nuts, sunflower seeds pack some great protein and healthy fats.  One-quarter cup provides over 7 grams of protein.  I've found that many endurance athletes focus so much on carbohydrates in their daily diets, that they don't get enough protein.  Instead of relying on too many carbs, many of which can promote inflammation in the body, balance your diet with energy-supporting foods rich in healthy proteins and fats.
Fiber: To stay healthy, stay regular.  In my experience, the health of the gut is very important to the health of the whole body.  And, your gut needs good amounts of fiber to stay strong and healthy.  A serving of sunflower seeds provides over 3 grams of fiber.
Bonus Recipe:  Sunflower Seed Butter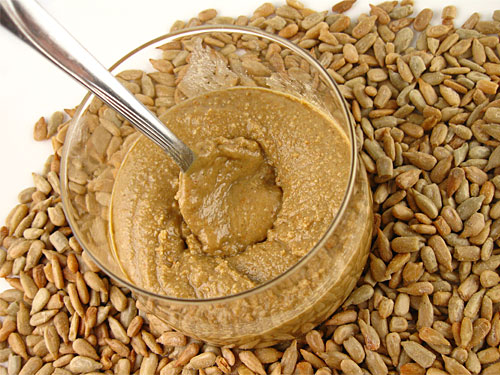 Place shelled sunflower seeds in food processor.  Process on high 30-60 seconds until they form a paste.  Add oil (olive, peanut, etc), if too dry or crumbly.  Process to desired consistency.
Need a healthy snack idea?  You don't need to buy the latest, greatest, energy bar.  Just grab a handful of shelled sunflower seeds.  Eaten a couple of hours before a ride, the long-lasting energy will serve you well.
Fuel Your Ride. Nourish Your Body.