Loving the BITE: Energize with an Iron Pan & Fish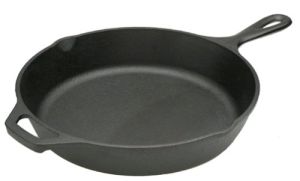 As a female endurance athlete, who loves to both ride and run, I've learned the importance of iron over the years.  Through four pregnancies, different levels of training and racing, and off-seasons, I've seen ups and downs with energy, fatigue, and low-iron symptoms.
I've also worked with female and male athletes who have been tested and been dangerously low. And even for those not in danger, any athlete with low iron stores feels the effects of fatigue and poor oxygen transfer when they are training. It's just no fun to have low energy, an inability to "kick" hard when needed, slow recovery, and chronic colds or illnesses.
Typically, when iron stores are low during an active training season, a "therapeutic" level of supplementation is needed. Sure, an athlete may be able to maintain levels while training with regular whole foods and iron-enhancing cooking techniques, but they are not likely to efficiently increase levels if significantly low. If you fall into this category, check out my previous post on iron supplementation and high iron foods (also, make sure to get your levels tested before starting a therapeutic dose and talk to your doctor).
However, if you are an athlete with fair to good levels, and you'd just like to maintain them, here are two ways to use cooking methods to add iron to your diet, whether meat-eating or vegetarian.
Recipe of the week: Cast-Iron Curry Carrots
Ingredients:
3 tablespoons organic coconut oil
2 pounds organic carrots, halved lengthwise and sliced into 1-inch pieces
1/2 teaspoon salt
1/2 teaspoon fresh ground black pepper
1 teaspoon curry powder
1/4 cup roughly chopped fresh cilantro
Instructions:
Heat a cast-iron skillet over medium-high heat; add coconut oil. When hot, add the carrots in an even layer to cook evenly and increase contact with the iron pan. Sprinkle with the salt and pepper, and continue to stir-fry carrots, stirring frequently, until they are brown in spots, about 8-10 minutes.  Add curry and mix well; then, top with cilantro.
To make this a meal, add any amount of cooked protein, and increase all ingredients except carrots by 25% for every cup of protein added.
This recipe also works well with other vegetables, just monitor and stir while stir-frying.
Comments:
There are lots of great reasons to use a cast-iron skillet or dutch oven. For athletes, one of the best ones is an increase in iron consumption in a safe way without supplementation.
Here's more:
Over the years, there has been concern regarding the potentially toxic chemicals in non-stick cookware, especially one there are scratches in it. You can avoid all these chemicals with cast-iron.
If you need to keep a dish warm, or further bake it to cook thoroughly, cast-iron can go directly into a hot oven (when first frying chicken, for example, you can cook through by baking).
Cast-iron can become more non-stick with proper care and healthy oils used in cooking.
You can clean it quickly with just hot water and coarse salt.
Compared to non-stick, cast-iron cookware is economical.
As long as you take care of it, it can last a life-time.
Since it can be used over firepits outside, on the grill, and when  camping, it's perfect for summer!
Easy Cast iron Care:
Season it when you get it. Simply heat it on the stovetop until its smoking hot, rub a little oil into it (coconut or olive oil) and let it cool. Repeat this process a few times and you're all set.
Clean it after each use. Clean your pan thoroughly after each use by washing it with hot water and course salt. Make sure to dry it very well; don't allow water to set on it.
Re-season it. After drying, place the skillet over a burner set to high heat. ONCE hot, rub a little oil into it again and then allow to cool.
Another GREAT way to add iron and help others do the same: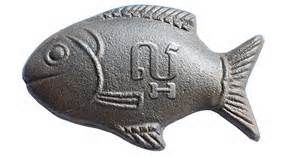 Have you heard of the iron fish? It's simply a chunk of iron, crafted into a "lucky fish" design, that you can add to foods while cooking. Iron is leached into the liquids and foods, similar to when cooked in cast-iron. And, the best thing about this lucky iron fish, the creators are using it to change the lives and health of anemic kids all over the world.  Click here (www.luckyironfish.com) to read the whole story, find how you can help, and order one for yourself.
Adequate minerals in our bodies and energy are great things. This week, take a traditional approach to getting both.
Fuel your Ride.  Nourish your Body.