Loving the BITE: Roasted Red Pepper Coulis
Green, yellow, orange, or red?  This is the question when picking out a bell pepper.  In terms of nutrition, it does make a difference.   As cyclists, we want all the antioxidants, phytochemicals, and health-promoting whole food components we can get.  Choose the wrong one and you'll get a lot of awesome nutrients.  Choose the right one, and you'll get even more.
Recipe of the week: Roasted Red Pepper Coulis
Ingredients:
3 medium red bell peppers, roasted & peeled (see method below)
10 sun-dried tomatoes, packed in olive oil
1 tsp balsamic vinegar
Salt and fresh ground pepper, to taste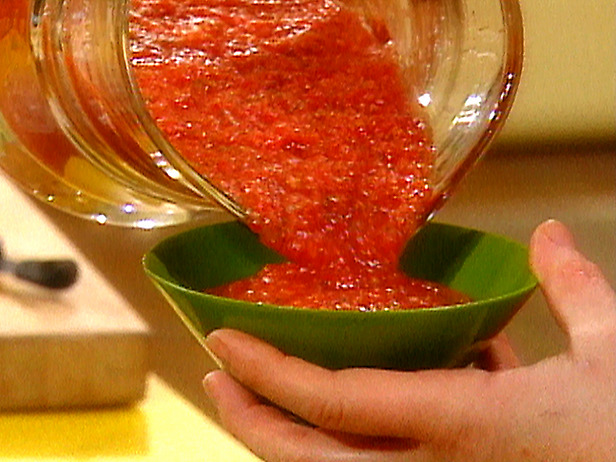 Place all ingredients in food processor and process until smooth.  Serve over baguette slices, as dip for bread or veggies, or as sandwich spread.  Works well for a healthy Holiday appetizer dip.
To Roast Bell Peppers: Preheat broiler.  Cut peppers in half lengthwise and remove all seeds and pith.  Place in shallow pan.  Broil for ~ minutes, ~4 inches from heat.  Then, turn over and broil until remaining side is charred.  Place in a paper bag and close to "sweat" until cooled (makes removing skin easier).  Peel and discard skin.
More tips: Roasted red bell peppers are very versatile – use as a pizza topper, sandwich filler, or add to a puree soup (such as Roasted Basil Tomato Soup).
Comments: 
Whichever bell pepper you like best, you're in for a nutrition POWERHOUSE with plenty of antioxidants.  Each color has different properties nutritionally because they have been allowed to mature for a different amount of time on the vine before picked.  Green are the least mature, then orange and yellow.  Red are the most mature, and they have the sweetest taste, almost like a fruit.  But don't be fooled, red bell peppers are still a super-healthy vegetable and only contain 2 more grams of sugar/carbohydrates per cup than green ones.  And, there's no worry, as these are the kind of whole food carbs that promote health for a cyclist anyway.  In fact, red bell peppers a wonderful combination of healthful nutrients and sweet, delicious flavor.
When you eat a red bell pepper, you get:
Carotenoids:

Over 30 different types of these amazing phytonutrients including alpha-carotene, beta-carotene, cryptoxanthin, lutein, and zeaxanthin!  Bell peppers top the carotenoid charts alongside tomatoes.  With increased ripening, red bell peppers have the most carotenoids and antioxidants of any variety of bell pepper.

Sulfur-containing compounds:

Like broccoli, cauliflower, onions, and garlic, bell peppers provide healthful sulfur-containing compounds.  In fact, these enzymes may reduce the risk of cancer.  Specifically, results are promising with the reduction of esophageal and gastric cancer in lab studies.

Vitamin C and other antioxidants:

In combination with carotenoids, the vitamin C in bell peppers discourages the formation of cataracts.  Additionally, bell peppers are a good source of the antioxidants manganese and Vitamin E.  These powerful antioxidants fight oxidative stress and inflammation while promoting artery and cellular health.

Whole Body Health:

Like most of our amazing whole food key ingredients, red bell peppers promote overall wellness, healthy blood sugars, eye health and heart health.  They have been shown to prevent blood clot formation, reduce risk of heart attacks and strokes, and reduce oxidation of "bad" cholesterol.
It should be noted that raw bell peppers will deliver more nutrients than cooked ones…especially in terms of carotenoids.  So, in addition to roasted red bell peppers, make sure to regularly eat raw ones – on salads, dipped into hummus, in sandwiches, even in smoothies.  If you want to get really crazy this week, dip fresh raw red bell peppers into Roasted Red Bell Pepper Coulis.
Let's help our bodies this Holiday Season by getting on our bikes as much as possible and dipping into healthful foods instead of junk.  This week, you'll get heart, eye, blood sugar, antioxidant, anti-inflammation, and anti-cancer benefits.  The red ones win.
Fuel Your Ride.  Nourish Your Body.
Photo c/o mdaras.com