Loving the BITE: Non-Dairy Strawberry Milk Recovery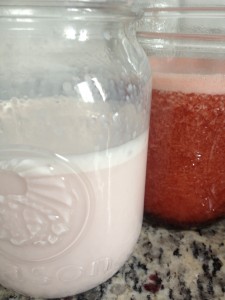 Don't got milk? No problem.  We've covered Chocolate Milk as an Option for Recovery, but what about those who don't drink dairy?  Are there similar options, with adequate protein, without casein, whey, and lactose?  Indeed, there are.
Of course, many food combinations of proteins and carbs will work for recovery.  And, there are tons of commercial recovery products available.  But, if you're looking for an easy, real-food option that combines adequate protein, whole-food carbs, antioxidants, and specific recovery-amino acids, look no further than this week's Strawberry "Milk" Recovery.
And, for those who do drink dairy milk, it's a delicious alternative to chocolate milk if you'd like to mix it up.
Recipe of the week: Real-Food Strawberry Milk
Ingredients:
2 cups chopped strawberries (organic, if possible – fresh or frozen)
1 cups water
1 cup organic raw honey
12 oz. organic milk, dairy or non-dairy
4-5 grams l-glutamine (optional, great after hard workout)
Instructions:
Heat water and strawberries in saucepan to a boil.
Reduce heat and simmer for 10 minutes.
Place in blender and process until smooth.
Strain through metal mesh into bowl if you'd like to remove any small seed bits (optional).
Add organic honey.
Add 2-3 Tbsp strawberry syrup to 12 oz. milk.  If non-dairy, choose from those recommended below.
For added recovery and reduced soreness, add 4-5 grams of l-glutamine from a powder supplement.  For more information, click here to view my short video on l-glutamine.
Comments:
This recipe was actually inspired by my husband.  Although he's not dairy-free, he's all about strawberry milk rather than chocolate.  He'd choose it every time.  So, while I've been loving my real-food chocolate milk recovery, I've begun to feel guilty that I hadn't perfected a non-junk-chemical-ingredient strawberry syrup.  It was time for real-food version. And, the results may just make me a convert.
While this syrup works well with organic dairy milk, I work with many clients who do not consume dairy.  They still need the convenience of an easy recovery option with protein, whole-food carbs, and antioxidants.   Unfortunately, there haven't always been a lot of high protein milk substitutes available.  If you're not already aware, it's very important to realize that rice, almond, coconut, and many other non-dairy "milks" only have 0-1 grams of protein per serving (compared to approximately 8 grams in soy or dairy milk).  It's easy to assume they are high in protein, as they are called "milk." They do have some great nutrient qualities, but protein's simply not one of them.  As long as you're getting protein elsewhere, they can be a great choice.
But, if you want protein in your non-dairy milk, here are my favorite options:
1)     Hempmilk: This one is newer to most markets, and is a great choice.  It naturally contains 4 grams of protein per 8 oz, plus plant-based omega-3s, vitamins, and minerals.
2)     So Delicious Almond with Added Protein: While not naturally occurring in the almond milk, this particular item has added pea protein for 5 grams protein per 8 oz.
3)     Non-dairy Protein Powders:  Nutritionally, and especially for recovery, my favorite non-dairy protein powder on the market is Performance Protein from Vegasports.  It's packed with l-glutamine (5 grams), BCAAs (5 gm) and 26 grams of total protein per scoop from pea, hemp, and rice proteins.  Additionally, there's Garden of Life Raw Protein, with 17 grams of plant-based raw sprouted proteins per scoop.  These are great additions that allow you to get up to 15-20 grams of protein within your recovery, with just half a scoop added to Hempmilk or So Delicious with added protein.
4)     Non-GMO organic soy milk is an option for some.  Indeed, it is high in protein at 8-10 grams per 8 oz.  And, while I'm not a fan of over-consuming soy proteins, especially conventionally grown with GMOs, small amounts  non-GMO organic soy proteins from traditional foods can be a healthy part of your diet.  However, at least half of those allergic to dairy are likely allergic to soy.  And, I am concerned about hormone disturbances with high intake of soy.
For recovery, I recommend aiming for 15-20 grams protein immediately after a hard workout, in addition to carbs, fluids, and electrolytes.  If drinking dairy milk, you'll get 12 grams in 12 oz., plus 4-5 grams in the l-glutamine.  For non-dairy drinkers, you can get 6-8 grams in 12 oz. of either non-dairy milk listed above, and then more with an added protein powder and l-glutamine.  All in all, there are many choices for recovery.  Just be sure to make it a habit, and you'll be able to get up and ride hard again tomorrow.