Make it Happen Mondays – 7 Minute Diet
I've dedicated all Monday posts in January to "Cycling for Optimal Weight".  There are a lot of riders out there who are "cycling for weight loss" or using the bike as their way of getting themselves in the shape they dream to be in…..and I honestly can't think of a better way to get there.  If you haven't already downloaded our Loving the Bike Cycling for Optimal Weight min-e-book, I encourage you to go check it out. It's a basic, down to earth plan for you to achieve your goals….and best of all, it will work.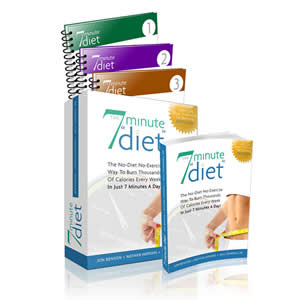 I really don't like the word "Diet".  To me, a diet means something you do for a while but then revert back to exactly what you were doing before (or worse).  Nutrition and eating right is a lifestyle…it's something that should come as second nature and not feel like torture.  Well, I came across a great program that shows you how to incorporate just a few simple "metabolism switches" that will help kick your body into a better fat burning machine.  Even though it's called The 7 Minute Diet, it is really more lifestyle than diet.  It allows you to continue on your regular eating plan, but tells you how to make a few tweaks to your routine that will do your body good.
Of course, you'll need to also get out there and crank the pedals as well…but I can guarantee you that if you follow the wisdom of The 7 Minute Diet and put on the miles on your bike, you will see fantastic results.
I was such a believer of what these guys were doing that I just had to get involved.  They have brought me on as a fitness consultant and helping their 7 Minute Diet members with the fitness side of things.  If you've ever wondered what you actually get by paying $49 to one of those website that promises you all that you're looking for…..well, on this one I can tell you that you'll get what you pay for.
If I've piqued your interest, Click Here! to watch a video that further explains what the 7 Minute Diet Switches can do for you.  If nothing else, I'll guarantee that you learn something about your body by checking it out.  Give it a go, and let me know what you think.