Three Big Dudes and the Bike
As we all know, the bike is a beautiful and amazing thing…but the importance it holds and the personal meaning it possesses differs for each and every one of us. For three web friends of mine, the bike is the answer to achieving their weight loss goals, obtaining better health, and improving their overall fitness.
My buddies, Clive Chapman, Bryan Dewberry, and Joel Phillips are three big dudes.  I wanted to make sure they were okay with me calling them that before mentioning it here in this post, and they were cool with it.  But, with the motivation and focus that these guys have….pretty soon, I'm just going to have to start calling them dudes.  Each of these guys have their own blogs and they talk about the day to day journey of using the bike to help meet their weight objectives, and here's a quick overview showing who they are and what their story is all about.
Be sure to check out the contest at the bottom of the post. We're giving away a Sweet Leaf Tea XL jersey to any of your "Bigger Dudes" out there who are using (or want to use) cycling as a way to reach your goals. We're hoping this jersey will either motivate you to get down in weight so you can fit into this jersey, or to lose weight so you're no longer wearing an XL.  Just leave a comment below explaining your story and you're in to WIN.
Congratulations to Eric McWhirter, the winner of our "Big Dudes" contest.  Eric receives an XL Sweet Leaf Tea Jersey and we'll be watching him and cheering along as he shoots towards all his fitness and cycling goals.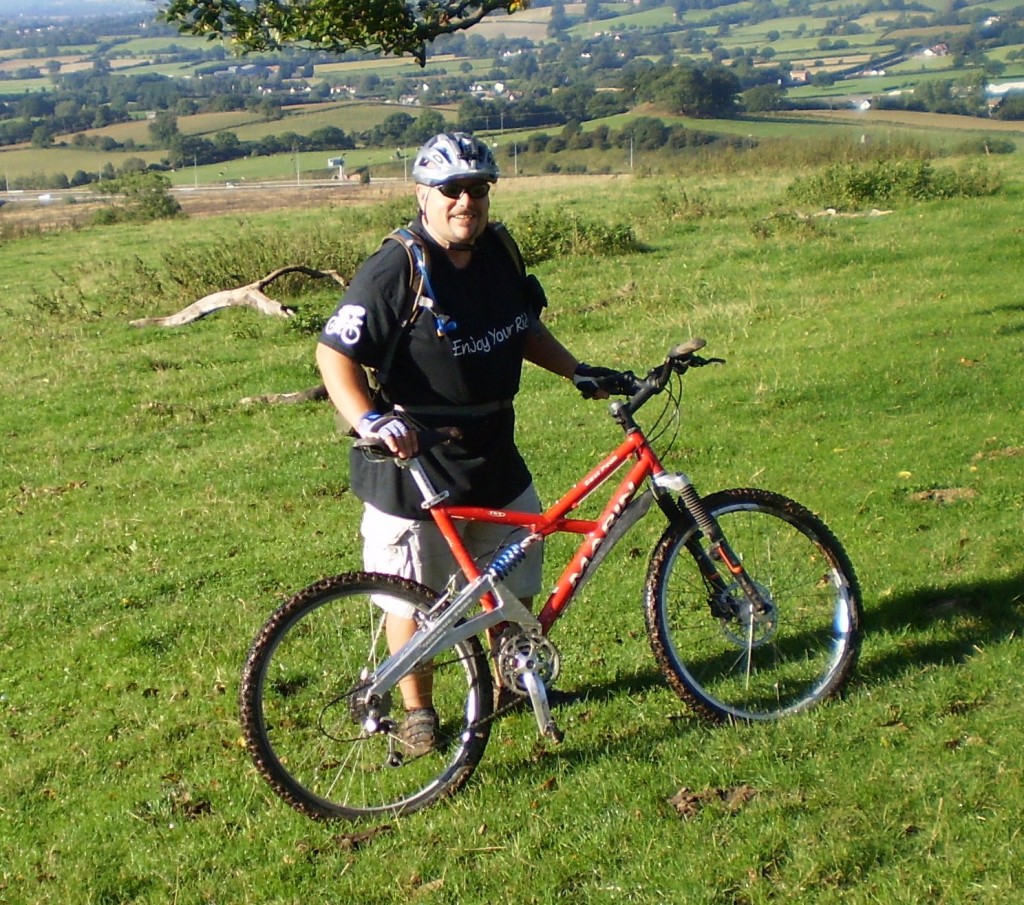 I've known Clive for over a year now and have really enjoyed getting to know this mate who hails from Birmingham, England.  I've found him to be very inspiring as I've gotten to know his story and have appreciated his support and friendship along the way.  Clive is part of the #LovingtheBike Army and here is an overview of life on the bike, according to Clive.
Most people are obese because they eat too much and/or don't exercise. That is certainly true of me anyway and I suppose at 312Ibs back in June 2009 it'd be hard to argue. After many failed attempts at "weight loss" I decided I needed a sustainable way of doing things, having grown up with bikes since I was a kid and as a pre fat adult I thought it would be the way forward for me. I'd done the gym thing and the going out jogging stuff but they all crashed and burned big style. You know what it's like, once you're in from a hard day's work, going out to get your exercise again is pretty much a nonstarter well for me anyway.

So, I thought, I have to work, so why not use my commute as that exercise? And the rest as they say, is history. In June 2009 after dusting down my MTB and building up slowly from a 6 mile park and ride along the canal to the full 12 miles, which is now often an enlarged 20 mile pedal in on my "new" road bike. As an indicator of how fast improvements come I completed 2 solo centuries last year after only a year back pedalling and eating properly. After 2 years my weight is now 204Ibs with a 104Ibs loss.

There are as many ways to get healthy as there are people, no one way is a guaranteed success, I should know, I tried pretty much all of them. But I do know one thing for certain, to succeed at weight loss, you need to do something you love and as I've always loved the bike, this is my way of succeeding. That and a pretty big dose of will power and self-discipline!

Check out more from Clive at www.massivemtber.co.uk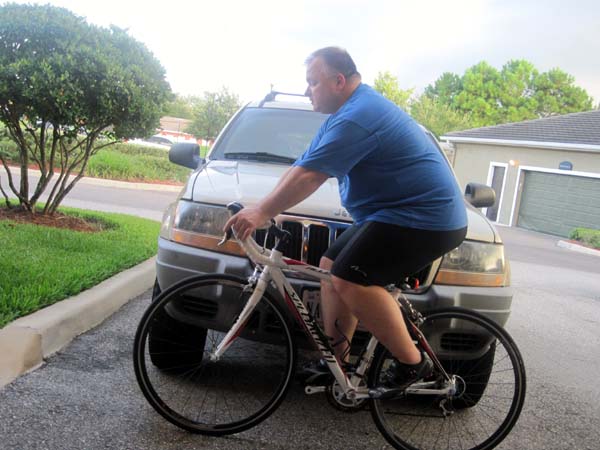 I've known Bryan pretty much since the first day Loving the Bike was launched….in fact, Bryan was the first person who came across this site and left a comment behind.  Since then we've bounced blogging ideas back and forth, had a bunch of laughs, and rooted one another on.  Bryan has spent some time working with Kelli on his nutrition, and I've offered a few pieces of goodness as well….and he's used it all to make great strides towards his goals.  Here's a little more from Bryan and how he uses cycling to lose weight.
In short, cycling has gotten me off the couch, off the Xbox, and on the road to better health. Without cycling I'd still weigh almost 300 pounds (its shocking when I think about that), still have chronic aches and pains, and shortness of breath at the slightest physical activity. I didn't get serious about my cycling until this January even though I've been trying to lose weight using my bike for almost three years. Once I got serious, set some goals, and started holding myself accountable, I began to see changes in my body.

Initially those changes were being able to ride further and an increased average speed. That meant my fitness was improving. Eventually my clothes started to fit better and I found I could wear clothes I hadn't worn in a long time. That meant I was starting to lose some weight. Then the scale stopped moving.

At this point I realized that cycling alone wasn't going to do it for me. I needed to make more changes if I wanted to  keep losing the weight. That meant I had to commit to changing my diet. I was still eating too much of bad stuff and it was offsetting any gains made by riding. Once I made this commitment the weight started coming off again and I'm now down in the upper 260s.

In addition to modifying my diet I've also made changes in my cycling as well. I'm now doing interval training twice a week and participating in group rides each Saturday morning at one of the local bike shops. Going forward I'll be implementing both core and strength training in order to make myself stronger on the bike.

As I look at the road ahead I now I'm going to get there.  I still have a long way to go to a target weight of 175 but I know my bike is going to get me there.

More from Bryan can be found at www.bikingtolive.com.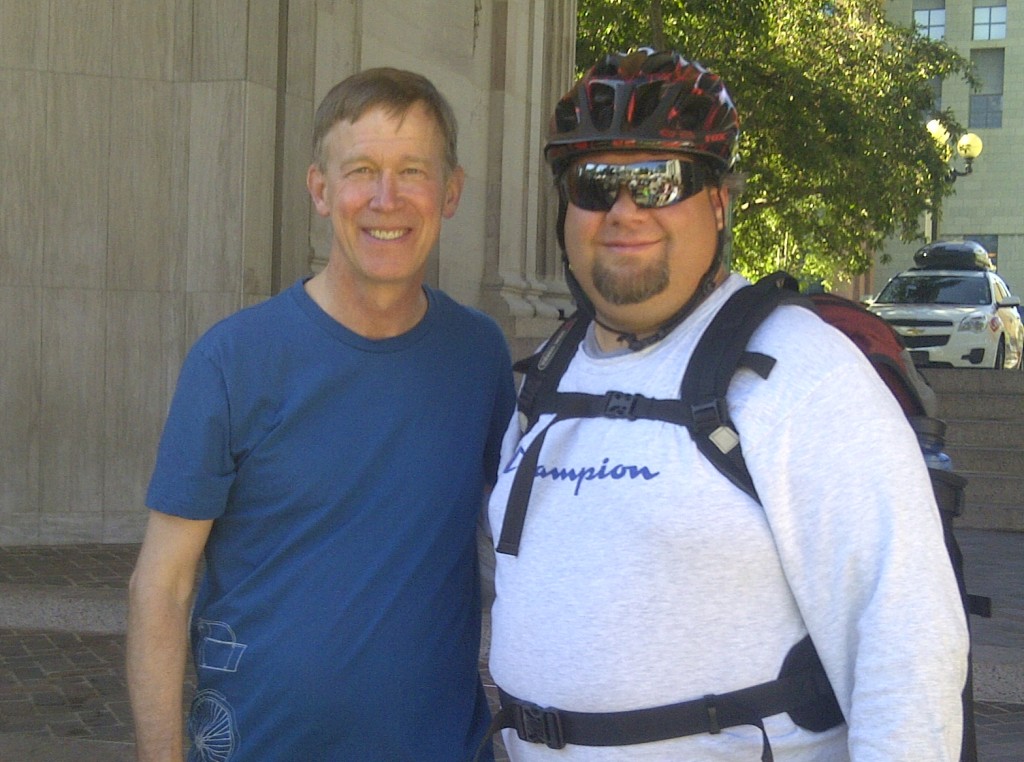 I've only known Joel for a few months now, but very quickly I've been able to witness all the wisdom and inspiration he has to offer.  This dude is super focused on what he wants to achieve and his goals include both personally using the bike to improve himself…and also those of the people around him.  He has the personal mission of creating awareness and providing education about the dangers of obesity, while inspiring change and motivation through cycling…and here is a little bit more about what cycling does for Joel.
For years I looked for the "easy way", hoped something better would come along, wished my luck would change.  All that got me was fat, not that I was ever considered skinny, but uncomfortable in my own eyes.  The unsightly flab is a reflection of not being motivated, in a sense, saying, "I quit"!

Getting back on my bike though, that started some blood pumping.  It really turned my life around.  I am not talking just about the health benefits, those are well documented and, as Kevin Bacon said in "A Few Good Men", "These are the facts of the case and they are undisputed".  I am talking about the mental and spiritual health benefits that come with riding a bike.  This is why I ride a bike, this is my reason and I have grown so much in this regard.
Riding a bike allowed me to deal with my baggage and resolve personal struggles.  Something therapy and Prozac failed to accomplish.  Riding a bike so perfectly mirrors life, I just couldn't help but to take the lessons learned on the road and apply them to my life.Life has its hills, mountains, valleys and plateaus, just like a bike ride.  Just like on a bike ride, you have to pedal to go anywhere; sometimes you will be standing up, turning red, wishing you would have never started; while other times you will be comfortable and steady in a cadence; but the times you can coast are few and go by fast.  Little by little I took this philosophy and applied it to my life.  I let go the anger and found self-confidence.  I gave way to doubt and discovered resilience.  Pride replaced shyness and it no longer mattered what I looked like, because that is not who I am.

You might say I found balance, which is kind of ironic, because you need balance to ride a bike.  I never believed I could accomplish much, but why would I, I was coasting.  I now know that I can't stop, won't stop doing what I need to be happy in life.  This means enduring the struggles of physical conditioning and the challenges of championing a worthy cause and accepting the criticism that comes along for the ride.  I know I can do it, I've proved it to myself one mile at a time.

Joel's blog is www.reasons2ride.com.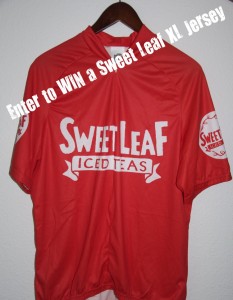 We're giving away a Sweet Leaf Tea XL jersey to any of your "Bigger Dudes" out there who are using (or want to use) cycling as a way to reach your goals.  We're hoping this jersey will either motivate you to get down in weight so you can fit into this jersey, or to lose weight so you're no longer wearing an XL.  Just leave a comment below explaining your story and you're in to WIN.  Contest closes on Sunday, August 14th at Noon EST.  Winner announced on Monday, August 15th.
Can you associate with these guys?  Let us hear all about it….and if there's anything we can do to help push you along, just let us know.