Loving the BITE: Achy Winter Joints? Fight Back!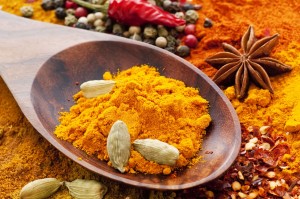 If you've got sore, achy, or arthritic joints, cold weather brings out all the pain.  Joint supplements work well, so does using specific ingredients in your cooking.  More details at Monica's Health Magazine.
If you're cycling through the pain this Winter, you can find relief by adding two very special spices to your diet: Ginger and Turmeric.  If you're lucky enough to have pain-free joints, you're in luck as well. Ginger and Turmeric offer many, many health benefits and should be a part of any healthy diet.
This week, let's explore 3 ways to add these spices and how it may help.
Recipes of the week: 3 Ways to Add Turmeric & Ginger to your Diet This Week
Turmeric Ginger Chicken Stir-Fry
Ingredients:
1 Pound Chicken
2 cups broccoli florets
1/2 cup full-fat coconut milk
1 Onion, cut into slices
5 Cloves Garlic, minced
2 Inches Ginger, finely chopped or 1 tsp ground ginger,
1 Heaping Tbsp ground Turmeric
1 Teaspoon Cumin
1/2 Teaspoon Chile Powder
2 Tablespoons organic coconut oil
Juice form 1 Lemon
Instructions:
Slice onion, cube chicken, mince garlic and finely chop ginger (if not using ground). In one small bowl, mix ginger and garlic into paste.
Saute onion over medium high heat in coconut oil until soft, about 5 minutes. 

Add ginger/garlic paste and continue to cook 1 minutes. Add all spices, continue to cook 1 minute more.

Add chicken, broccoli, and coconut milk.  C

ook until the chicken is no longer pink in the center and the broccoli has reached your desired texture.
Add juice from one lemon and stir.
Anti-Inflammatory Tea
Ingredients:
1 whole turmeric roots, peeled and cut in 1/4 inch slices OR 2 tsp ground tumeric
2 inches whole ginger root, peeled and cut in 1/2 inch slices (or just get one of the biggest and freshest whole roots available and use the whole thing) OR 1.5 tsp ground ginger
9 whole cloves OR 0.5 tsp ground cloves
1 medium beet, peeled and chopped
5-6 green tea bags or similar amount of whole leaf tea
Juice of 1 lemon
Organic honey (optional)
Instructions: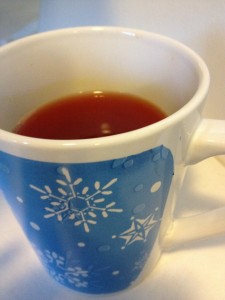 Boil ~ 64 oz.(~2 L) water in a large pot.  Reduce to simmer. Add WHOLE cloves, turmeric, ginger, and beets (if using ground spices, you'll add them in at step #2). Cover and allow to simmer for 15-20 minutes.
Add any ground spices, stir well.  Add Green tea (bags or loose leaf).  Remove from heat and allow to steep 2 minutes. Strain (if needed) or remove bags, and add lemon juice and small amount of honey (optional), to taste.
Can keep extra tea in refrigerator up to 2 weeks and reheat as needed.
Quick Turmeric Sauce
Ingredients:
1 can (13.5oz) coconut milk
1/4 tsp sea salt
2 tsp ground turmeric
1 tsp ground ginger
2 garlic cloves, peeled
1/4-1/2 medium onion, peeled and chopped into chunks
juice from one lemon (can be added to sauce or squeezed over dish)
Instructions:
Place all ingredients in food processor or blender to make sauce.  Warm on oven until heated through.
Add sauce to cooked protein and vegetables.  If eating meat, use organic, local, and/or grass-fed if possible.  Cook by sauteing, stir-frying, baking, grilling, or slow-cooking.  If you'd like a non-meat option, cook quinoa and beans, lentils, firm organic tofu, etc.. For vegetables, try sauteed or grilled bell peppers, carrots, tomatoes, broccoli, green beans, cauliflower, squash, and more!
Comments: 
What's special about these recipes?  It's a combination of anti-inflammatories, antioxidants AND anti-pain nutrients that have allowed those suffering from joint injuries and arthritis conditions to find some relief AND healing.  And, beyond these delicious stir-fry, tea, and sauce recipes,  you'll find my personal supplement recommendations for healing from joint inflammation/pain and/or road rash or skin injury.  Here's what's in it for you:
 Inflammation:  You can deter your bodies' state of inflammation in two key ways.  One, you can give it nutritional agents and antioxidants that work directly at the cellular and tissue level to ease inflammation and promote healing (these agents are often used in Eastern medicine and can reduce inflammation and acidity of fluid within joints).  Example of these nutrients are curcumin found in turmeric, eugenol found in cloves, and gingerols found in ginger.
And two, you can increase the production of anti-inflammatory hormones by increasing omega-3s in your diet.  Primarily, omega-3 fats from fish have strong anti-inflammatory effects.  Secondarily, those from flax, chia, hemp, and walnuts can play a role.  Increase your intake of these fats from whole foods forms and fish oil supplements.
Pain: Next, some nutritional components actually have an effect on pain.  The primary anti-pain ingredient in this tea is ginger.  In two recent studies, 75% of joint pain sufferers, and 100% of muscle pain sufferers, have found relief with consistent daily intake of ginger.  These new studies build off the hundreds of years and dozens of studies to support ginger's anti-pain attributes.
Antioxidants:  As you know, antioxidants fight the free radicals that work in your body to cause damage to your cells.  These free radicals abound with injury and inflammation, and athletes are especially prone to a build-up if antioxidants aren't consumed regularly.  Our Anti-Inflammatory Tea and recipes are brimming with antioxidants from every spice included, beets, Vitamin C in the lemon juice, and potent nutrients from green tea.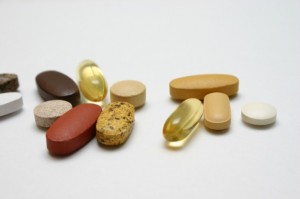 Supplement recommendations for joint/pain healing:
Increase fish oil intake to 2000-4000 milligrams per day (talk to your doctor if you are on blood thinners).  If you eat fatty fish at least twice per week, supplement at lower end of range.
Take a probiotic, like acidophillus, every day to increase absorption of nutrients like antioxidants and improve immune function.
Take a high quality multivitamin every day for extra vitamins, minerals, and antioxidants (my favorite brand is Rainbow Light Multivitamins, and they include high amounts of probiotic bacteria, so you don't have to take an additional probiotic pill).
Increase Vitamin D intake to 3000 IU per day…research has shown some improvement of joint pain with increased levels of Vitamin D supplementation and a possible correlation of low Vitamin D status and joint pain/arthritis. Consider getting your total vitamin D levels checked.  If you are low, you'll likely require about 1000 IU Vitamin D per 25 pounds of your body weight to efficiently increase your levels.
Increase anti-inflammatory spices.  Use garlic, turmeric, cloves, and ginger in cooking as much as possible, drink this week's Loving The Bite Tea twice per day, and/or take ginger pills @ 500 mg 2 times per day.
Ache no more winter joints, I've got miles to ride!
Fuel Your Ride.  Nourish Your Body.