Loving the BITE: Souper Fuel for Cold-Weather Rides
Just last week, I received an email from a Loving the Bike reader who wanted to know my opinion on using soup for fuel during an upcoming 24 hour race. My opinion is…yum!
As I sit typing, snow is falling outside. I woke up early this morning for an frigid uphill ski, and I'm remembering back to my own 24-hour winter and through-the-night winter races. Soup for fuel sounds absolutely wonderful right now, and I'm confident we can come up with a few easy recipe that will provide the warm fluids, sodium, and carbohydrate every freezing cyclist needs.
Recipe of the week: 3 Options for Souper Fuel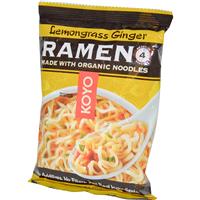 Option #1: Organic Ramen Noodles:
The easiest option is to simply buy a ramen noodle packet, cup-of-soup ready-to heat soup, or canned soup.  In terms of taste, sodium, and carbohydrates, my preference is the ramen.  However, since typical cheap ramen noodle packets are loaded with a bunch of junk chemical ingredients (MSG, anyone?), I know we can do better.
Believe it or not, you can actually get organic Ramen Noodle packets. Who knew? They are not quite as cheap as the Ramen you ate in college, but they are made with much better ingredients and I'm happy to recommend them.  One such brand is Koyo Natural Foods.  One such flavor variety is Lemongrass Ginger.  And for just $3 and 4 minutes prep, you'll be rewarded with ~45 grams carbohydrates and 600+ milligrams sodium.  Not the best combo if you're just sitting around doing nothing, but an awesome fuel option if you're in the middle of a freezing, long, ride.
(Ingredients: Organic Noodles: Organic heirloom wheat flour, sea salt. Soup Packet: Natural sea salt, chinese mushroom powder, vegetable powders (onion, garlic), natural cane sugar, chili pepper, ginger, black pepper, lemongrass, green onion, kombu powder. Contains: Wheat.)
Option #2: Broth & Rice:
Or, if you want even less ingredients, want gluten-free, or want to customize the recipe yourself, try 12-16 ounces of organic broth (chicken, vegetable, beef, miso, etc) and 1 cup cooked rice (or 1 cup boiled red potatoes, or 1.5 cups cooked noodles). You can add garlic, ginger, cumin, or any other seasoning. You'll get fluid, 45 grams carbohydrates and approximately 600-800 mg sodium.
Option #3: Homemade Chicken Noodle (with a kick of Awesome):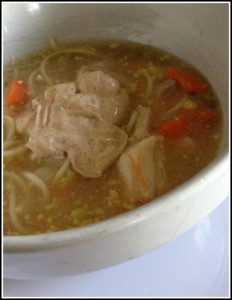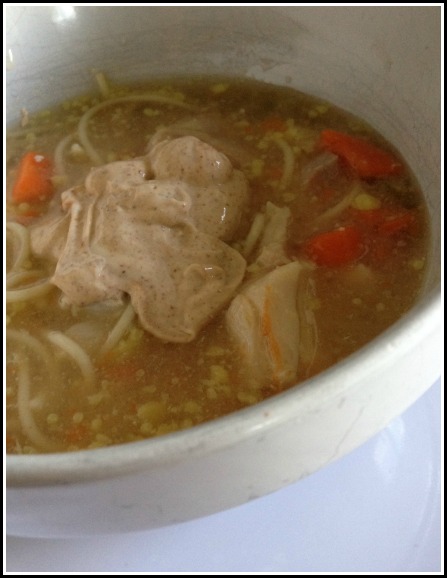 Ingredients:
2 tablespoons extra-virgin olive oil
1 medium onion, chopped
3 garlic cloves, minced
2 medium carrots, cut diagonally into 1/2-inch-thick slices
2 celery ribs, halved lengthwise, and cut into 1/2-inch-thick slices
4 fresh thyme sprigs
1 bay leaf
2 quarts chicken or vegetable stock (use boxed liquid or organic paste)
Small cubes of: 2 free-range chicken breasts of 4 free-range chicken thighs (boneless, skinless) OR for a  vegetarian soup, use 16 oz. firm tofu or 2 cups garbanzo beans
8 ounces 100% whole wheat noodles or cooked brown rice (optional)
Kosher salt and freshly ground black pepper
1 handful fresh flat-leaf parsley, finely chopped
chipotle chili powder, optional
cumin, optional
Place a soup pot over medium heat and coat with the oil. Add onion, garlic, carrots, celery, thyme and bay leaf. Cook and stir for about 8-10 minutes, until the vegetables are softened but not browned. Pour in the chicken stock and bring the liquid to a boil. Add diced chicken and noodles/rice; simmer for 5-8 minutes until chicken is cooked through.  Stir in parsley.  Add salt/pepper, and optionally chili powder and cumin, to taste.
Although this recipe will take a bit more preparation, it's easy to make ahead of time and freeze it for an upcoming race. Once you're ready to have it for a race, you may want to add an addition cup of heated broth to the soup as the noodles can soak up extra broth when stored.
Comments: 
These are not easy, grab-n-go fuel options. These are not easy races.  While you'd never need this amount of prep for a shorter race, soup is perfect for longer, colder ones.  Of course, you'll need an aide station, crew, or camp equipped with a stove and the ingredients.  Or, a really good (and lightweight) thermos. In the middle of the night, when it's dark, cold, and you're motivation is waning, you'd be amazed at how much you'll appreciate real , warm, food fuel that's warm and deliciously loaded with flavor.  In these conditions, bars, gels, and cold sandwiches, just aren't the same.
Are you a cold-weather cyclist? What fuel do you look forward to most?
This week, consider a warm fuel option if you're riding and racing in the cold. Any of our soups are a great choice full of carbohydrates, needed sodium, and fluids.  And, thank you to the reader who asked my opinion.  Send your questions and we'll keep Loving the Bite!
Fuel Your Ride.  Nourish Your Body.
top image c/o iherb.com