Loving the BITE: Stay Lean this Winter Tip #3
Stay Lean This Holiday Season
I love a good party.  And, I love the Holidays. However, I will admit that I start playing a little defense during the 2 1/2 months that begin right before Halloween and end after New Year's Day.  It's during this time that overflowing candy bowls appear in all offices, that yummy baked goods are brought in each week, and that our calendars become overbooked with school, work, and family and friends social gatherings.
How can you avoid packing on a few pounds during these stuff-your-face-its-a-party months?
Here's how: Eat whatever you'd like on the actual Holidays you celebrate.  And then, in terms of eating, treat all the days in between the Holidays like business as usual.
For my clients, this means still eating "Light at Night" at parties between Holidays. It means piling vegetables onto 50% of their plates  (look for, or bring a good salad or vegetable tray), adding lean protein on the side, and being careful not to "drink" tons of calories.  It means choosing between dessert and alcohol, and then keeping this portion moderate. You don't have to be on a diet on Thanksgiving Day.
Do I sound like a party pooper? I sure hope not.  On those actual Holidays you celebrate, I recommend eating whatever you'd like.  Turn off the food journal, sit down, and enjoy the food before you. You don't have to be on a diet on Thanksgiving Day.
Make sense?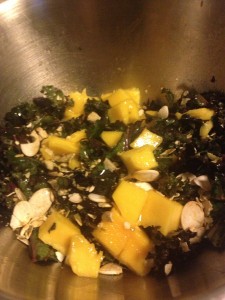 It works.  You can enjoy the Holidays without gaining weight as long as you don't treat the next 75 days as your own personal ongoing candy-fest.  And if you don't think there will be a great selection of vegetables for you at those December parties…step up and bring a good salad to share.  Here's my favorite, and yes, you too will be eating kale at a party (it will wow other guests…I promise!):
Recipe of the Week: Party-Worthy Delicious Kale Salad for those who think they Hate Kale 
Ingredients:
1 bunch kale, stalks removed and discarded, leaves sliced thinly
1 lemon, juiced
1/4 cup extra-virgin olive oil, plus extra for drizzling
Sea salt
2 teaspoons honey
Freshly ground black pepper
1 mango or peach (diced small), or 1 cup raspberries
¼ cup pine nuts, sunflower seeds, or chopped toasted walnuts
Instructions::
In large serving bowl, place sliced kale, half of lemon juice, a drizzle of oil and a dash salt. Massage until the kale starts to soften and even wilt, 2 to 3 minutes. Set aside.
Meanwhile make the dressing.  In a small bowl, whisk remaining lemon juice, honey, and lots of freshly ground black pepper, to taste. Pour in 1/4 cup of oil while whisking until a dressing forms.  If  you'd like, double this simple dressing recipe and pour over sautéed chicken strips for a complete meal.
Pour the dressing over the kale, and add the mango and seeds/nuts. Toss and serve.
Comments:

Pretty simple this week.  Keep it to party-eating a few times this Holiday Season, not a few months this Holiday Season.  You'll feel great and not regret it come New Year.
Fuel Your Ride. Nourish Your Body.