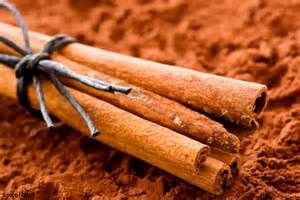 It's your lucky day. Without going to a store, and without spending a dime, I bet you've got one of the most powerful antioxidants available, right in your cupboard. Lurking. Just waiting to be used more.
And now you've got no excuse.
Cinnamon is POWERFUL. It's anti-inflammatory. It's full of antioxidants. And, it contains essential oils that are healing, health promoting, blood sugar controlling, and more. They may even make you smarter.
Here's the what, the how, and the why's of cinnamon:
Recipe of the Week:  Homemade Cinnamon Pumpkin Spice
Ingredients:
4 teaspoons cinnamon (I prefer Saigon)
2 teaspoon ginger
1 teaspoon allspice
1 teaspoon nutmeg
Instructions:
Mix all ingredients together.

Save in an air-tight container and use as described below, in pies and other recipes that require Pumpkin Spice.
Uses:
Add a teaspoon of cinnamon or Pumpkin Spice Mix to your coffee mug or tea mug, then, fill up!
Add cinnamon or pumpkin spice to apple slices, peach slices, applesauce, peanut butter, and more! Delicious!
Add cinnamon to or Pumpkin Spice to pork chops and serve with baked apples.
Add it to your recovery snacks. Use our smoothies or other recovery drinks.
Comments:
Why add cinnamon to your diet?
First, inflammation and cellular stress (oxidative stress) is an issue for cellular health, whole body health, and recovery.  When you think of inflamed cells, think of angry, out-of-control, destructive cells that simply do not function right or heal optimally.  When we eat foods and nutrients that are anti-inflammatory and those with antioxidants, they can calm these cells and create a balance in our bodies that responds better to all the chemical reactions and toxins we throw at it.  These cells also recover better which translates to better power in subsequent workouts and less soreness.
As a hard-breathing, hard-training cyclist, you require a lot of chemical reactions in your body…much more than a sedentary person. To combat all the free radicals that are produced by these reactions and that cause oxidative stress, eat more real foods with antioxidants.
In fact, cinnamon has an ORAC score (a measurement of Oxygen Radical Absorbance Capacity) of just under 7000 for 1 teaspoon. This is more than a 1/2 cup of blueberries, a cup of Pomegranate juice or most apples (but still eat those as well).
But cinnamon isn't just a pile of antioxidants. It has healing, therapeutic, powerful properties and components.
Cinammon contains essential oils with active components. These include cinnamaldehyde, cinnamyl acetate, and cinnamyl alcohol. These components, along with other nutritive properties of cinnamon have a lot to offer the human body. Here are a few (whfoods.org):
Anti-Clotting and Anti-inflammatory Actions: The cinnaldehyde in cinnamon helps prevent unwanted clumping of blood platelets by reducing and inhibiting the release of an inflammatory fatty acid called arachidonic acid from platelet membranes. Cinnamon's ability to lower the release of arachidonic acid from cell membranes also puts it in the category of an "anti-inflammatory" food that can be helpful in lessening inflammation.
Anti-microbilal Activity: Cinnamon's essential oils also qualify it as an "anti-microbial" food, and cinnamon has been studied for its ability to help stop the growth of bacteria as well as fungi, including the commonly problematic yeast Candida. In laboratory tests, growth of yeasts that were resistant to the commonly used anti-fungal medication fluconazole was often (though not always) stopped by cinnamon extracts.
Blood Sugar Control: With daily nutrition AND training nutrition, steady blood sugars are beneficial. Cinnamon can reduce the increase in blood sugar and subsequent extra insulin needed to deal with it. Cinnamon also slows the rate at which the stomach empties after meals, reducing the rise in blood sugar after eating (of note: this is also the reason that I don't recommend large amounts of cinnamon in pre-training and during training fuel).
Boost in Brain Function:  Yes, please! Believe it or not, one study showed that chewing cinnamon gum, or even just smelling cinnamon improved participants' scores on tasks related to attentional processes, virtual recognition memory, working memory, and visual-motor speed while working on a computer-based program. I bet that would work on the road or trail, too!
To add to this impressive list, cinnamon's antioxidant, anti-inflammatory, and fibrous components promote improved colon health, heart health, and gut health!
Real foods are often an incredible source of health promoting and healing components. Add 'em to your diet. Spices are an incredibly effective, easy, available, and delicious source of power for cyclists!
Fuel Your Ride. Nourish Your Body.