Loving the BITE: Beet-It Chips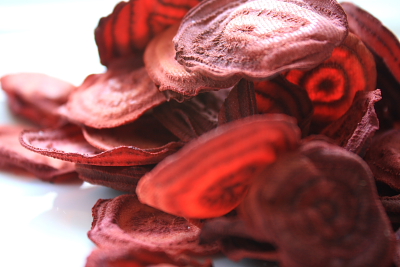 This week's Loving the Bite recipe can't be beat.  As a true SuperFood vegetable with a beautiful color, it's hard to beat beets.  They can be intimidating, I know.  But, once you get used to adding them to salads, smoothies, and even snacking on them with our Recipe of the Week, you'll find them a wonderful addition to your meals and snacks.  And, as an athlete, you'll certainly enjoy the cellular and whole-body benefits for your eyes, blood, and heart!
Recipe of the Week: Baked Beet Chips
Ingredients:
2 or 3 medium beets, at least 3 inches wide to decrease shrinking
Salt (optional)
Instructions:
Preheat oven to 300 degrees Fahrenheit.
Wash the beets thoroughly. Cut off both ends and peel. Be careful with the juice, it can stain. Keep a towel close by or peel in or under running water, if needed.
Slice the beets as think as possible. A mandolin works best. If no mandolin available, try using the "chip" style slice on a cheese grater, or cutting very thin.
Lay the sliced beets out onto parchment-lined baking sheets. They can be placed close together as they will shrink during baking. Sprinkle with salt, if desired.
Bake for 20-30 minutes. Watch them 20 minutes as they burn easily. The beets will still be pliable when done and will crisp up as they cool.
Comments:
When you put down the bag of tortilla chips, and pick up some beet chips instead, you get the "Big 3"
wellness punches: antioxidants, anti-inflammatories, and detoxification nutrients.  Specifically, beets contain:
Belatins:  These phytochemicals (remember, phytochemicals fight disease) provide the beautiful reddish-purple hue known to beets and contribute to all 3 wellness punches at a cellular level.  They fight free radicals, fight inflammation, and support detoxification of the cells.  Like other superfoods, they support the production and work of glutathione, a powerful antioxidant our cells make to fight damaging substances.  And, in lab studies, they have successful slowed the growth of tumor cells.
Carotenoids: Beets are an awesome source of both zeaxanthin and lutein.  These antioxidant vitamins go beyond everyday free-radical-fighting to support eye health, especially fighting against age-related eye diseases.
Betaine: Made from choline (a B-vitamin), betaine is a nutrient that specifically works to decrease bodily inflammation.  By decreasing inflammation, betaine may decrease risks of cancers, heart disease, plaque build-up in arteries, diabetes, and obesity.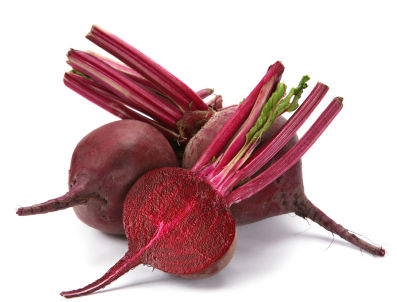 Super Fiber:  While all fiber is good, not all fiber is the same.  Beets and carrots contain specific fibers and pectins that provide special benefits to our digestive tract and cardiovascular systems.
Minerals: Beets contain a variety of minerals.  Two in particular, copper and iron, work to "build your blood" and make it healthy and strong.
And, you might just experience colorful urine.  No joke!  About 5-15% of adults in the US are estimated to experience beeturia, urine that is red or pink, after eating beets.  So, if you try our Loving the Bite recipe this week, don't be too alarmed by beeturia.  There may be some connection with this condition and an issue with iron metabolism, though.  If you experience beeturia, and suspect iron deficiency, iron excess, or iron metabolism to be a problem affecting your health, please consult with your healthcare provider.
Bonus Recipe: Beautiful Beet Smoothie
Mix ½ cup Greek yogurt, 1 cup berries, 1 small banana, 1 cup spinach, 1 small beet (1-2" diameter) in blender.  Add ice and water to desired consistency.  Beautiful.  And yum.
If you're a cyclist interested in optimal health, it's hard to beat beets.  This week, start adding them to your mix.  Throw raw beets in smoothies and salads, or add them to meals.  Maybe you already do.  If so, let us know how you enjoy beets!
Fuel Your Ride. Nourish Your Body.