Loving the BITE: Cucumber Salad for the Cyclist-Gardeners (and the rest of us, too)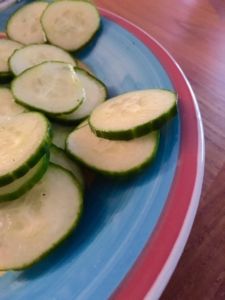 This time of year, my gardener friends have cucumbers coming out their ears. And not to be mean, but it's not a good look.
If you're in the same boat, here are some great options for cucumbers and why you, as a cyclist, should grow them or buy them, and then most importantly, eat 'em up.
Recipe of the Week: Cool As A Cucumber Salad
Ingredients:
2 medium cucumbers, thinly sliced
1/3 cup raw apple cider vinegar (here's the one I use)
1/3 cup water
2 tablespoons organic or raw honey (local if possible)
1/2 teaspoon salt
1/8 teaspoon pepper
Chopped fresh dill weed or parsley, if desired
Instructions:
Place cucumbers in small glass or plastic bowl.  Place remaining ingredients (except dill/parsley) in tightly covered container. Shake well. Pour liquid over cucumbers. Cover and refrigerate 3 or more hours. Enjoy!
Comments

:

You may have always thought cucumbers were nothing but a bunch of water. Rabbit food, really. Well, they do have a high water concentration. And rabbits might eat them. But there's more to a cucumber than that. In fact, here are some special qualities of cucumbers that can specifically benefit cyclists:
Cucumbers have unique polyphenols in plants called lignans. Lignans are health-benefiting fibers that have been connected with reduced risk of cardiovascular disease as well as several cancer types, including breast, uterine, ovarian, and prostate cancers in research again and again.
Cucumbers contain extracts with high antioxidant and anti-inflammatory properties. As we know, athletes can experience high oxidative stress and inflammation from everyday life and from the exercise (specifically, the chemical reactions that occur using oxygen while exercise). The antioxidants in fresh cucumber extracts help scavenge free radicals, help improve antioxidant status, and the anti-inflammatories can inhibit the activity of pro-inflammatory enzymes (like cyclo-oxygenase 2 (COX-2)). In addition, cucumbers contain other beneficial antioxidants including vitamin C, beta-carotene, and manganese.
Fresh cucumbers are a rich source of triterpene phytonutrients called cucurbitacins. These nutrients have been the subject of active and ongoing research to determine the extent and nature of their anti-cancer properties. In preliminary studies, scientists have discovered how they inhibit cancer cell signalling pathways.
Fresh cucumber has gentle diuretic effects, which help reduce bloating and fullness that can occur after big rides in the heat. Since they have a high water content, they encourage the body to produce more urine to remove extra toxins.
Bonus Cucumber Options

:
If you're looking for a snack with a tasty crunch, try using salted cucumber slices in place of chips with salsa. Now obviously, this isn't an exact substitute for chips and salsa, nor will it taste like it. But, it's sort of its own snack, and is a great way to get in double the vegetables when paired with a fresh salsa!
Since cucumbers are great as a gentle diuretic to get off extra bloat from too much sodium, sugar, or otherwise, throw one in your smoothie! In fact, I use them as a anti-bloat ingredient in my 3-Day Smoothie Cleanse plan. If interested, use code lovingthebike 15% off!
Cucumbers are fresh, cool, and healthy. And whether they are coming out of your ears or on sale at your local grocer, this is the time of year to dig in. They can nourish your body with anti-cancer nutrients, antioxidants, anti-inflammatories, and natural diuretics. Perfect after a hot day on the bike.
Fuel Your Ride. Nourish Your Body.
If you'd like to work with Kelli one-on-one with a Custom Nutrition Plan & Coaching, or download one of her acclaimed Instant Download Plans like Fuel Right Race Light, click here: Apex Nutrition Plans for Endurance Athletes. Be sure to use coupon code lovingthebike for a 15% discount!