Loving the BITE: Delicious Stir-Fry & 5 Tips for Staying Lean despite December
Ahhh December. Gotta love it right? For many, it's busy, it's cold (not for Darryl, of course), it's a bit dark, and it's easy to let your body hibernate. As in, plump up a bit for the winter.
Additionally, there's the Holiday rush, treats, parties, & festivities. Typically, healthy eating goes out the window and it's easier to just wait for New Years to come along to resolve to healthy goals.
But, not this year. No-sir-eee. During most people's busiest time of the year, we're taking a preemptive strike on New Years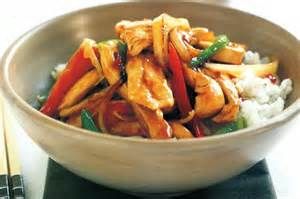 Resolutions & telling you that you can meet your goals this month. Every month. No matter from where you're starting, you can feel Fit & Strong this December and every month of the year. Or, maybe you're already there as a dedicated cyclist, but you know others who would love a helping hand in feeling great and meeting their own weight, health & fitness goals. Share it! This week, I've got a delish vegetable-loaded stir-fry recipe for you, and a plan that can help athletes and "non-athletes" alike meet their goals.
Recipes of the week: Delicious Light Chicken Stir-Fry with Cauliflower Rice
(adapted from foodnetwork.com)
Ingredients:
3 tablespoons soy sauce or liquid aminos

2 tablespoons rice wine vinegar

Cauliflower Rice (see recipe here)
Instructions: 
In a small bowl, mix soy sauce, vinegar, cornstarch, ketchup, garlic, ginger & green onion. Pour 1/2 of this mixed sauce over protein (chicken) and let stand while you prepare the vegetables.
Heat 1 tsp oil over medium high heat in skillet or wok. Add chicken and cook, stirring frequently until golden brown and cooked through, about 3-4 minutes. Remove from pan, set aside. Wipe pan clean. Add remaining teaspoon of oil. Heat over medium high heat, add all veggies, immediately season with salt to taste. Cook, stirring often until veggies have browned a little and are starting to soften, about 5 to 6 minutes. Add remaining marinade to protein and veggies. Reduce heat to medium low and cook until veggies are tender, about 3 minutes more. 
Served over cauliflower rice for a delicious vegetable double-whammy!
Comments:
Every year at time, I admonish readers to stick with their healthy lifestyle through the end of the year. Stay strong. Don't put on your "quitters" (pajama pants) on the year. That's right, no quitters.
In fact, in 2014, I spent 5 separate weeks on tips for staying lean through the winter. Here's what we covered (click on each link for the full post):
And now, I'm taking it a bit further. I've just now begun offering a great weight loss & fitness program for anyone who wants to focus on fat loss, as an athlete or not. As you know, I've spent years working with endurance athletes on Daily Eating for weight goals, health, great energy, and wellness, AND Training Nutrition to optimize fuel before, during, and after  riding for  their best performance.
My new program, Apex Fit & Strong, focuses on solely on the fat loss, wellness, metabolism, and daily energy portion (no training nutrition). So, if you're looking to lose weight, or know someone else who'd love this program, it's a great opportunity to take charge ofyour  health NOW.
Loving the Bike readers get a 15% off by using this link for the Apex Nutrition Fit & Strong Program  & the coupon code ltbfit.
Make it a great December. Enjoy the wonderful Holidays, but don't quit on your goals. Whether your primary focus is cycling performance, or fat loss, or both, you can do it! I'd love to help.
Fuel Your Ride.  Nourish Your Body.