Loving the BITE: Easy, Quick Chicken Tortilla Soup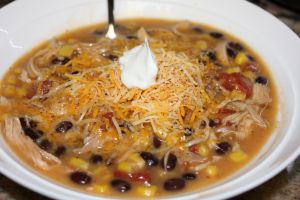 Generally, I like to use fresh foods – of course. But, guess what? Some canned foods are not villains, but an easy, healthy ingredient. In fact, I have one go-to recipe in particular, that uses canned vegetables and turns out DELICIOUS and healthy.
Like you, I'm busy. Works, kids, riding, and more. But we still have to eat! Throughout the cold weather months, I pull this recipe out when I'm in a time crunch; my family and even guests always love it. This week, let's explore some canned vegetable options in this delicious, easy, chicken tortilla soup.
Recipe of the Week:  Easy Go-To Chicken Tortilla Soup
Ingredients:
32 oz. chicken or vegetable broth
1 lb chicken breast or thighs (boneless, skinless), cut into 1-inch cubes
16 oz fresh or deli salsa
1 can organic black beans, drained and rinsed (look for BPA-free can)
1 can organic corn kernels, drained and rinsed OR 12 ounces frozen corn kernals (if you cannot find a BPA-free can, go with frozen)
cheese shreds, sour cream, plain yogurt, plain tortilla chips or baked corn tortillas strips
Instructions:
Place a soup pot over medium high heat.
Pour in the chicken broth and diced chicken. Bring to a boil; then simmer for 5-8 minutes until chicken is cooked through.
Stir in black beans, corn, and salsa and simmer for additional 5 minutes, until all ingredients are heated through.
Place in bowls.
Add salt/pepper, cheese shreds, all-natural sour cream or plain yogurt, and tortilla chips (optional).
Enjoy!
Comments:
When it comes to choosing any processed food (one in a box, can, bag, etc.), you must be a choosy consumer. These items don't necessarily have to be off-limits, but they do need to be scrutinized. Canned vegetables, have long been health-food villains, with many nutritionists lumping all "canned" foods together and labeling them as sodium-laden and unhealthy. But here's the thing – some of them are just fine. Here's how to choose healthy canned foods:
Stick with the basics – you'll get yourself into trouble with processed foods when there are multiple foods in it – for example, a single canned vegetable might be fine, but many soups or "meals in a can" are loaded with all sorts of ingredients you don't want.
Next, when looking at a canned food, always follow this rule: First and foremost, as with all processed foods, skip over the front label (marketing), ignore the nutrition label (at least momentarily), and zero in on the ingredients list. You need to know what's in it. Any processed food can be manipulated to have "good numbers" in the nutrition label, but the ingredients have less flexibility. For our choices? Organic canned black beans and organic canned corn should have corn or black beans, water, and salt.
Consider the nutrition – again, this goes beyond the carbs, proteins, and fats of a nutrition label. Some nutrients in foods are destroyed with the heating that takes place with canned foods, while others are made more bioavailable and usable by the body. So, don't discount canned foods just because they are in a can necessarily. With our choices? Beans do lose some folate, but the calcium and iron content in canned beans is similar to those you soak and cook at home. The corn loses some vitamin C, but other antioxidants are increased.
Look for BPA-free cans. In my opinion, there's been enough evidence to avoid it if at all possible. I can always find BPA-free organic black beans at my normal grocer (not a specialty store), but have a harder time with finding BPA-free canned corn – so, often I do use frozen for it.  Yes, I'm picky about processed foods…and you should be, too!
Lastly, pick your battles. Use fresh and frozen most often, but remember than some canned items can still work. In this recipe for example, it's easy enough to use frozen corn, but the canned beans can save you a lot of time and effort.
As long as your smart and choosy, you can use the convenience of some canned foods and still enjoy health benefits. As a hard-training athlete, it can be helpful to have some quick dinner recipes up your sleeve so you can stay out on the bike longer and whip up dinner in a jiffy. This soup recipe is a great example, and we hope you love it!
Fuel Your Ride. Nourish Your Body.