Loving the BITE: Hot Roasted Chickpeas (World's Best Snack)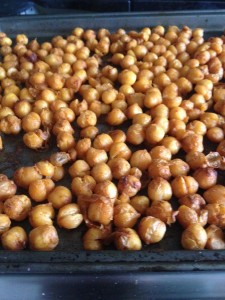 I can't stop eating these.  Seriously. I just about ate the whole dang batch.  I hate to brag, but they might be the best snack food in the world.  I've saved about 1/2 cup for my family to share.  And the only reason I've saved it and not finished them off myself?  To brag to them.
This week, we're talking chickpeas.  We're seasoning them (with real spices and not monosodium glutamate, right corn nuts?), oiling them, lime-juicing them, and roasting them.  The whole prep process takes 5 minutes. Then, just stick 'em in the oven…simple as that.
Have I convinced you to give them a try yet?  If not, hold on tight because there are many compelling nutrition aspects for a cyclist to consider as well.  Also, I may or may not have just licked the roasting pan.
Recipe of the Week: Hot Roasted Chickpeas
Ingredients:
2 (15-ounce) cans chickpeas, also known as garbanzo beans, thoroughly drained and rinsed (about 3 cups)
2 tablespoons olive oil
juice from one lime
1 teaspoon ground cumin
1 teaspoon chili powder
1/2 teaspoon cayenne pepper
1/2 teaspoon sea salt
Directions:
Pre-heat the oven to 400°F.
Place all ingredient in a large bowl and toss urntil thoroughly mixed.
Spread the chickpeas in a single, even layer on baking sheet and bake until crisp, about 40-45 minutes.
Try about 1 cup for a snack.  These may also work well as a spicy, salty fuel option for long rides.  Keep it to just 1/4 -1/2 cup or so at a time.  They are a great source of carbs and sodium, but the extra fiber may be too much for some cyclists while riding.
Comments:
These really are a great snack food.  How can I tell? When I'm looking at a recipe or a commercial product, I start with the ingredients, NOT the nutrition label.  You see, companies can make all sorts of non-real-foods seem good by manipulating them to appear good on the nutrition label. Then, they make all sorts of unsubstantiated nutrition claims about their nutrient-manipulated non-real-foods. What a crock. Instead, simplify.  Look for real, whole foods in the recipe or on the ingredient list.  If these check out, then move to the label (if you want) to see if they fit into your goals at hand.  Looking for carbs before a ride…take a look.  Need protein in recovery…check it out.  And, for a snack? How about a real food like chickpeas and spiceslthat provides carbs, protein, and fiber. Done and done.  Nutrients can be important, but ALWAYS start with the ingredients.
And here's some information on three of ours:
Chickpeas: Chickpeas are a high nutritious superfood that provide carbohydrates, protein, and fiber.  What's more, they've been shown in research to suppress the appetite and allow for those trying to lose weight to eat less; improve blood fats and reduce LDL, total cholesterol and triglycerides; improve blood sugars and insulin secretion; and, improve digestion and intestinal health.  Sounds like a winner, huh?
Cumin: Cumin might be my favorite spice.  It's delicious.  It's flavorful. And, it's good for you.  Find out all the details here.
Chili: A spice with a punch! Real chili (freshed or dried/ground) can clear sinuses, add antioxidants, and even rev up the metabolism.  If you want to know more, read about chili here.
Then, we round it out with lemon juice, salt, and olive oil.
How do corn nuts, a snack food some might think is similar to ours, "round it out?" How about some high omega-6 corn oil (not good) and monosodium glutamate instead of real salt (no thank you).
This week, it's easy, it's compelling, and it's very tasty to snack smart.  It's the perfect snack food for a cyclist who wants to maintain a lean weight and promote health and wellness. Most of my meal plans suggest a snack of about 150-200 calories for most clients…so about 1 cup of these will do nicely.  As if you can stop there! Hopefully you have more self-control than me.
Fuel Your Ride. Nourish Your Body.