Loving the BITE: Injury Recovery Super Smoothie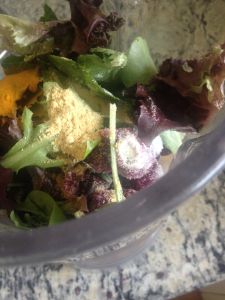 After witnessing injury upon injury during the Tour de France, I've decided to up the ante on the Ultimate Joint Health Smoothie.  We can do better.  We can make it heal. The new and improved Injury Recovery Super Smoothie.
Specific foods can proactively nourish our joints, skin, tissue, and muscles.  What's more, they can help them heal when they are injured.
A couple months ago, we discussed adding Bromelein from pineapples, cherries, and ginger.  Now, we're going to add undenatured whey, gelatin and turmeric.  This will be one packed smoothie for joints, tissues, muscles, and skin.  And guess what? It will taste fresh, nourishing, and delicious.
In addition, I've included a link to my new "Injury Recovery Nutrition Plan" and a special discount for Loving the Bike readers. If you've got an injury, you'll find everything you need to recover faster in it from daily meals and snacks to supplements to natural food-based pain management.
Whether it's road rash, over-used joints, fractures, sore muscles, or injuries requiring surgery, you can help them recover from the inside out.  Here's how:
Recipe of the Week: Ultimate Injury-Recovery Smoothie
Ingredients:
¾ cup fresh or frozen pineapple (with core if possible)
¾ cup fresh or frozen, tart cherries
1 cup fresh greens like spinach, beetroot greens, etc.
1 cubic inch peeled ginger or 1 tsp ground ginger*
1 tsp. turmeric
1 Tbsp. gelatin
1 scoop undenatured whey (preferred) OR vegetarian protein powder or 4-6 oz. organic Greek yogurt (10-20 gm protein)
5 grams l-glutamine
2 Tbsp. Chia Seeds
½-1 cup water as needed for desired consistency.
*Ginger Tip: You don't have to peel the ginger, but if you'd like to, use the side of a spoon to easily scrape off the thin skin.
Directions:
Place all ingredients in blender and blend until smooth.  Can be used as a meal, recovery after training, or as a snack (2 servings for a snack).
Comments: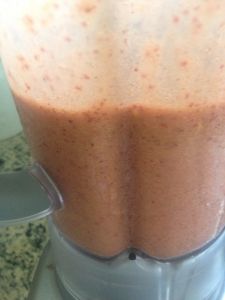 Is there magic in this smoothie? Not quite, but there's fantastically nourishing ingredients that promote cell and tissue healing.  They nourish joints and muscles.  And, in studies, they've resulted in pain relief as effective as medications.  We've thoroughly covered the effects and benefits of pineapple/bromelein, tart cherries, ginger, and l-glutamine in past posts.  Here's a run-down on a few new healing ingredients:
Gelatin: Gelatin is a substance found in animal bones, fibrous tissues, and organs.  Since most of us no longer consume these parts of an animal (traditional bone broth. for example),we don't get enough of the specific amino acids (glycine and proline) found in gelatin.  Interestingly, these specific amino acids are needed for optimal hair, skin, and nail growth.  They can also significantly aide wound healing and immune function.  To add it to your diet, you can use gelatin powder, just 1-2 Tbsp. per day.  You can buy Gelatin in most stores (ex: Knox) or you can choose this very high quality one from specialty stores or online: Great Lakes Kosher Gelatin (it is certified kosher).
Undenatured Whey:  Whey is one of the prominent proteins found in dairy.  When it's undenatured and has not been heated to a high heat, it contains significant amounts of the natural form of cystiene, an amino acid that's often lacking in modern diets.  This specific form of cysteine acts as the raw materials your body can use to make glutathione in your cells.  Glutathione is a very powerful antioxidant made by the body. That was a mouthful!  But, why is it important?
The more glutathione your cells make, the better they can heal and thrive.
Turmeric: Turmeric, and it's most prominent nutrient, curcumin, have anti-pain, anti-inflammatory effects on joints and muscles.  In fact, this spice, either eaten as a ground spice or taken as a supplement has been shown to reduce arthritis pain and soreness after exercising.  It can reduce inflammation, increase muscle cell regeneration, and promote healing.
Apex Injury-Recovery Nutrition Plan
If you, or someone you know is currently dealing with an injury or upcoming surgery, I have written a complete plan that can help.  It covers everything from daily eating to supplements to surgery considerations to pain management.  It includes a sample meal plan that can be easily customized for optimal healing (it's a very healthy plan for anyone, but emphasizes healing foods and nutrients).  You can find this plan here.  And, this week (7/24/14-7/31/14), you can take 25% off with coupon code: lovingthebike.
It's tough being injured.  It's tough physically, emotionally, and mentally.  There's usually a sense of helplessness and being at the mercy of unknowns.  While a simple smoothie doesn't fix all of this, it can give back some control.  Control with pain management, healing, and recovery.  Use our super smoothie proactively or as part of your treatment after an injury.  We sincerely hope it helps you get back on the bike again sooner rather than later.
Fuel Your Ride. Nourish Your Body.