Loving the BITE: Marcel's Special Pesto
When I was in college, every Friday we had pizza in the cafeteria. Sounds great, right? Sure does! However, it was a small college with a tight budget. We didn't have the "anything you want to eat" anytime you want it like many universities do now (and I'm thankful, otherwise the Freshman 15 would have likely been a solid 45). In this spirit of frugality, our cafeteria manager, Marcel, served pizza with various  toppings. Turns out, these toppings were the leftovers of everything we didn't eat during the week.
Lasagna pizza? You've got it.
Meatloaf pizza? Comin' right up.
I laugh now and sort of do the same in my own household (you're really looking forward to this recipe, aren't you?). Specifically, I do this with pesto. You take any greens (like the ones that you know are going to go bad in next couple days), and any nuts or nut-like seeds – I generally have cashews around, but almonds, sunflower seeds, pine nuts, etc., will all work (not chia seeds). Then, you only need lemon juice, garlic, olive oil, and salt. Ta-da. "Marcel's Special" pesto.
You can find my pesto recipe below. And, in week's recipe of the week, we have a delightful salmon pesto recipe that's been making its way around in the internet in various forms.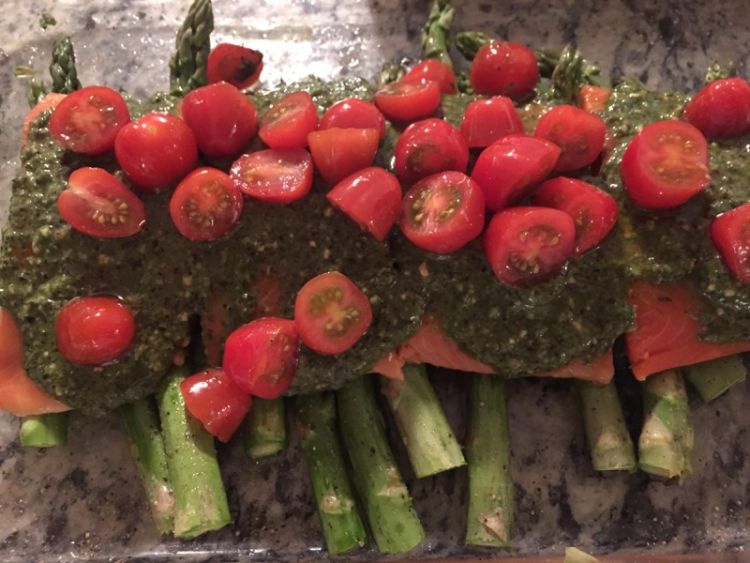 Recipe of the Week: Pesto Salmon over Asparagus
Ingredients:
4 salmon fillets, 4-6 ounces each
1 lb. asparagus, washed and tough ends chopped off
1 Tbsp olive oil
Marcel Special Pesto (recipe below)
Cherry or grape tomatoes, chopped in half
salt and pepper
Instructions:
Place asparagus in the bottom of a 9×13 baking dish. Drizzle olive oil, salt and pepper, and "roll" to coat.
Place salmon over asparagus, skin-side down.
Top with ~2 Tbsp pesto on each fillet.
Add optional tomatoes, and sprinkle on salt and pepper.
Cover with foil tightly and bake at 400 deg F for 30-35 minutes or until salmon is no longer translucent and flakes with the fork.
Enjoy!
Marcel Special Pesto:
2 cups packed fresh organic green (any mix, spinach, etc)
2 cloves garlic
1/4 cup nuts (pine nuts, cashews, almonds, sunflower seeds, etc)
2 tablespoons fresh lemon juice and 1 to 2 teaspoons grated lemon peel
2/3 cup extra-virgin olive oil, divided
Kosher salt and freshly ground black pepper, to taste
1/3 cup Parmesan cheese, finely grated (optional)
Instructions: Place all ingredients in food processer and process until chunky smooth (a bit grainy, like chunky peanut butter).
Comments:
Goodness. Where do I even begin? With salmon, asparagus, pesto made of greens, and tomatoes in this recipe, how do I pick one to highlight? I'm going with my gut: we're gonna talk asparagus.
How can asparagus make a difference in your cycling this week?
First, like most vegetables, it has major anti-inflammatory & anti-oxidant benefits (noticing a pattern?):If fact, it has a unique combination of anti-inflammatory nutrients including saponins like asparanin A, sarsasapogenin, protodioscin, and diosgenin. These anti-inflammatory components reduce risk of many diseases, including brain and nervous system conditions, and promote overall health.
Alongside the anti-inflammatories, asparagus is full of anti-oxidants.  Vitamin C, beta-carotene, vitamin E,  zinc, manganese, and selenium to name a few. It also contains my all-time favorite antioxidant: glutathione (read all about it @ http://lovingthebike.com/nutrition-tips/nutrition-tip-february-5-2011).
And what do many type of cancers have in common?  Well, many things, but one is an increased risk with chronic, excessive inflammation and chronic oxidative stress.  Enter anti-inflammatory factors and antioxidants, such as those from asparagus.
More asparagus = more antioxidants and anti-inflammatory nutrients = healthier, younger cells w/ reduced risk of disease = faster, healthy recovery = stronger cycling.  Solid Cyclist/Dietitian math.
Next, it aids digestion…Keep your gut healthy and it will keep you healthy:
Not many foods contain inulin (specific soluble fiber).  Asparagus happens to be a good source of it.   We've talked a good deal about probiotics (healthy bacteria that live and grow in your gut), but little about prebiotics.  Prebiotics are simply probiotic food – they allow the probiotics to stay healthy and proliferate.  One of their favorite foods is inulin.
More asparagus = more inulin = more probiotics = more healthy digestion and better immune function = more antioxidant absorption = more healthy days for cycling.   More solid math.
Keeps your heart healthy and blood sugars in check:
As we discussed above, it provides anti-inflammatory and anti-oxidant benefits.  This is always good for your heart, hormones and blood sugar.  Then, it has an amazing B-vitamin content – it's an excellent source of folic acid and a very good source of vitamins B1, B2, B3 and B6.  It contains choline, biotin, and pantothenic acid.   These vitamins are important for heart health, metabolism of sugar, and energy production.
More asparagus = healthy cells & more energy = faster, better, cycling.
When life gives you random greens & nuts, make pesto. And, this week, do what you can to eat more asparagus. You may just see stronger cycling, faster cycling, and more of it altogether.
Fuel Your Ride.  Nourish Your Body.
If you'd like to work with Kelli one-on-one with a Custom Nutrition Plan & Coaching, or download one of her acclaimed Instant Download Plans like Fuel Right Race Light, click here: Apex Nutrition Plans for Endurance Athletes. Be sure to use coupon code lovingthebike for a 15% discount!