Loving the BITE: Spinach Pesto Over Spaghetti Squash Pasta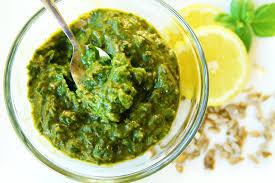 Summer's coming, and that means it's time to stock up on vibrant, beautiful vegetables.  Bring on the Summer Veggies.  Well, maybe it means more than that, but fresh vegetables and fruit are a wonderful part.  And, for the cyclist, summer's wonderful cycling opportunities combined with vegetable-saturated clean-eating can make for a wonderfully healthy season.
To celebrate, we're piling on the vegetables this week – one cooked and one fresh (there are good reasons to eat both cooked and fresh so a combo is great).  We're diversifying our colors, orange and deep green, to increase our variety of nutrients.  Why stop at one dinner vegetable when you can go for two?  One taste of our spinach pesto, and you'll be asking for more…
Recipe of the Week: Spinach Pesto over Spaghetti Squash Pasta
Ingredients:
Spaghetti Squash:
1 spaghetti squash, cut in half length-wise, seeds removed and reserved

2 Tbsp olive oil
Spinach Pesto:
2 cups packed fresh organic spinach leaves
2 cloves garlic
1/4 cup pine nuts, toasted (or substitute sunflower seeds)
2 tablespoons fresh lemon juice and 1 to 2 teaspoons grated lemon peel
2/3 cup extra-virgin olive oil, divided
Kosher salt and freshly ground black pepper, to taste
1/3 cup Parmesan cheese, finely grated
Instructions:
First, begin cooking spaghetti squash: Preheat oven to 350 degrees F (175 degrees C). Lightly grease a baking sheet.  Place spaghetti squash cut sides down on the prepared baking sheet, and bake 30 minutes in the preheated oven, or until a sharp knife can be inserted with only a little resistance. Remove squash from oven, and set aside to cool until able to be easily handled.  Once done, scrape the stringy pulp from the squash to form noodles with fork, and place in a medium bowl (~ 1 cup per serving).
Meanwhile, while squash is cooking, make pesto: Place spinach, garlic, pine nuts, lemon juice, and lemon peel in a food processor or blender, and process until coarsely chopped.  Add 1/2 cup of the olive oil.  Process until fully incorporated and smooth. If desired, add salt and pepper to taste. If serving immediately, add remaining oil and mix until smooth.  Top with cheese. If allowing to set, refrigerate and add remaining oil and cheese when ready to serve.  Or, if freezing, transfer to container and drizzle remaining oil over the top. Freeze for up to 3 months.
Put it together altogether: Place spaghetti squash in a bowl.  Top with a protein source such as cooked chicken, baked organic tofu, quinoa, or mild-flavored beans or cooked lentils.  Top with spinach pesto.
Comments:
There are a lot of great reasons to eat more spinach, and to eat more spaghetti squash.  The colors of fruits and vegetables are indicative of varying nutrients, like antioxidants, vitamins, and minerals…and the more variety the better.  Fresh greens are green from chlorophyll.  Orange often indicates beta-carotene.  Both are good.
When choosing vegetables, it's a great idea to choose organic whenever possible.  For the good of the environment, the soil, and your health, organic is most always a good choice.  However, here in the real world, it's not so easy on the wallet.  So, if you can't afford all-organic, all-the-time, here's a quick list of vegetables and fruits that should always be bought organically, those that are fine conventionally, and those that should be organic if you're able to, but are okay conventionally if not (any fruits and vegetables omitted from the lists below).
Go for organic when buying Celery, Peaches, Strawberries, Apples, Blueberries, Nectarines, Bell Peppers, Spinach, Cherries, Kale/Collard Greens, Potatoes, and Grapes (Imported).  These are known as the "dirty dozen." They retain high amounts of pesticides when grown conventionally.
If needed, it's okay to buy these "low-pesticide" fruits adn vegetables conventionally-grown: Onions, Avocado. Sweet Corn, Pineapple, Mangos, Sweet Peas, Asparagus, Kiwi, Cabbage, Eggplant, Cantaloupe, Watermelon, Grapefruit, Sweet Potato, Honeydew Melon.  Notice that most of these are peeled.
Bonus Recipe: Two more ways to eat raw greens this week, try raw kale salad (this recipe is delicious!) and through some greens into any smoothie such as in our Green Berry Smoothie.
Fresh vegetables of all different colors.  Strong rides, warm weather, and healthy bodies.  I'm ready for it…are you?  That's the stuff of summer.
Fuel Your Ride. Nourish Your Body. 
image c/o: nowheynocow.com