Loving the BITE: Turkey Leftovers & Fit Holidays for Cyclists
If there's one thing you should do tomorrow, the day after Than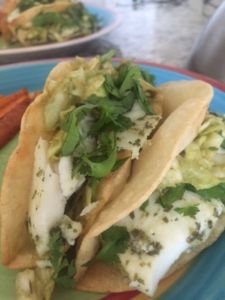 ksgiving, it's got to be to get out those turkey leftovers, and make the opposite of Thanksgiving dinner.
What IS the opposite you ask? One word:
Tacos.
Leftover turkey is perfect for delicous fresh tacos. And I'm not talking just any tacos, I'm talking about tacos that will change your life.
Seriously, is there really anything better than a great taco? I mean REALLY. These are the important questions in life. And my answer right now is: Why no. No, there's not.
Here's my favorite taco recipe, inspired by my quest for the best fish tacos in the world (we've hit up lots of taco stands), and sans the protein – because lucky you, you've already got that made. This deliciously fresh cabbage and avocado slaw with make any leftover meat and turn it into a fabulous taco.
Recipes of the week: Fresh Avocado Cabbage Slaw for Tacos that will Change Your Life
Ingredients:
2 cups shredded green cabbage, chopped
1 avocado
1-2 tsp chili powder
2 Tbsp lime juice
Salt, to taste
Cilantro, chopped
Instructions: 
Place cabbage in a bowl. Mash in avocado. Stir in lime juice & chili pepper. Salt to taste.
Place in taco shell with meat and chopped cilantro.
See bonus recipe below for "homemade" fried taco shells.
Taco Meat Ideas:
Turkey leftovers, reheated and seasoned with lime, cumin, and a bit of chili powder.
Carne Asada Meat with cabbage & cilantro. (I'll post a delicious carne asada slow cooker recipe in the upcoming weeks)
Chicken seasoned with lime juice & cumin. Place in taco with cabbage & cilantro.
Baked white fish (such as tilapia). Place in taco with cabbage mix & cilantro.
Meat-Less: Black beans or kidney beans seasoned with cumin, lime, cilantro, and chili powder.
Other Options: Not into tacos? Here are some other ideas: Slow cooker chili or this delicious sauce recipe from 2014's Thanksgiving leftover post. Now you're set. 
Comments:
Since you may be celebrating a Holiday today, and taking time with family, we'll keep this short. To learn more about the great nutrition in this taco, Click Here for the original post.
Bonus Recipe – Game Changer Home-Fried Taco Shells with Avocado Oil: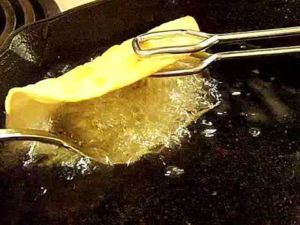 Using tongs, place avocado oil in a small 5-6″ skillet until it's filled about 1 inch. Heat on high until for about 5 minutes, until just barely bubbling OR when a small piece of tortilla is placed in, it sizzles (remove piece after testing). Turn burner down to medium high. Place one tortilla in oil, flat. allow to fry for about 15-30 seconds, until golden brown. Flip over, and allow to fry again for 15-30 seconds minutes. Right before taking out, fold tortilla over on itself for a taco shell. Hold about 10 seconds. Remove from oil and allow to drain on paper towels.  Allow oil to cool to room temperature. Once cooled you can re-use cooled one additional time: first filter out any food pieces, then cover tightly and keep in the refrigerator.
And, if you're looking to the rest of the year, and wondering how you can possibly stay on track with healthy eating through the Holidays, check out my latest video on Apex Nutrition TV:
Freshen up your menu this week with a delicious turkey taco. Or, warm up this week with a big bowl of chili. Either will make for a great recovery after a great post-Thanksgiving ride.  Leftovers never looked so good.
Fuel Your Ride.  Nourish Your Body.
If you'd like to work with Kelli one-on-one with a Custom Nutrition Plan & Coaching, or download one of her acclaimed Instant Download Plans like Fuel Right Race Light, click here: Apex Nutrition Plans for Endurance Athletes. Be sure to use coupon code lovingthebike for a 15% discount!