Hashtag Tuesday: #seenonmybike
In honor of my awesome weekend with my good friend, @bikerly…..I'm having him guest post on this fine Hashtag Tuesday.  He's the creator of a great cycling tag called #seenonmybike.  This Hashtag is so much different than the regular tags you see on Twitter because it is so much more visual…it's like you get to step right into the world of the person who laid out the tweet.  I gotta stop talking and let @bikerly give out the goods.
#seenonmybike
– Jim aka @bikerly
As if creating a school on twitter with @egggman and @lovingthebike isn't nerdy enough, I have another confession. Last fall I used an advanced Twitter search to find all tweets with the words twitpic AND bike, OR biking, OR cycling. The search results from TwitPic were pretty cool, but there are a lot of other ways people share their cycling photos – Flickr, Blogger, Tumblr, Instagram, Posterous, yfrog, Facebook… the possibilities are many.

To keep track of my own bikey photos I started a Posterous and tagged the autoposts on twitter with #seenonmybike. And one fall weekend I threw out a twitter challenge, "Hey tweeps, it's a beautiful fall weekend. How many bikey pictures can we tag with #seenonmybike?" Sometimes hashtags take off and sometimes they don't. In this case it was reasonably successful with a small group sharing their photos from their weekend rides.
Nothing tells a story better than pictures. Photo blogs like Amsterdamize, Cycle Chic, Let's Go Ride a Bike, Pebble Pedalers and Shebicycles inspire like heck. Phone cameras and micro blogs are making it easier for us to share pictures commuting to work, pedalling to the grocery store, reaching the peak, or however we are loving the bike. Let's collect, organize and inspire. #seenonmybike
There are no rules for good photographs, there are only good photographs.  ~Ansel Adams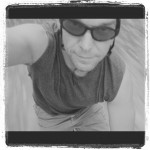 Jim is one of my #bikeschool co-conspirators and all around great guy.  He's a bike guy, but doesn't consider himself a cyclist.  He's also a runner and just took part in the Livestrong Marathon this past weekend in Austin.  If you're not already following him on Twitter, you are missing out.  You can also find him blogging on grouchosports.com on Thursdays, and bikeschool.tumblr.com on Tuesdays.