MiiR Bikes Are Making it Happen
We generally don't post advertorial type articles here at Loving the Bike, but decided to let Travis and the crew over at MiiR put this guest post up because they seem to be doing good things for the World through their business.  Have a read about the things they are doing to help build affordable and reliable mobility.
With their Givecraft campaign, they are doing what they can to help make good things happen.
The MiiR Bicycle Project
by Travis Wals
The MiiR team is excited to introduce you to something that has been brewing up in Seattle – other than massive amounts of great coffee!  At MiiR, we believe in thinking differently about what we create, how we create it and who it may impact.  We started by making stainless steel bottles that help provide others with access to clean water & sanitation training.  In meeting these fundamental needs our eyes were opened to the need for transportation.  Affordable, reliable mobility is one of the most valuable but unrecognized tools for empowering others to create sustainable change, so in response to this need we've launched a buy one give one project for bikes!
Our Bikes
The MiiR Bicycle line is designed for urban riders. We've created a bicycle line with three frame styles that are affordable, easy to use and a blast to ride.  Our 5 speeds (mixte and diamond frames) feature no-fuss internal geared hubs which make commuting a breeze and our single speed includes a flip flop hub, allowing for fixed gear or single speed riding.  Comfortable for casual rides around town and reliable as your everyday commuter, the chromoly frames and forks are designed to fit racks and fenders so you can customize your MiiR bicycle for your style of riding.
Our Buy One, Give One Program
The need for simple, sustainable transportation is not confined to any one area of the world.  It is a global need requiring a global response, which is why we have partnered with World Bicycle Relief and the Boise Bicycle Project to help provide access to bicycles both internationally and domestically.
The Designed to Empower Video from MiiR:
[youtuber youtube='http://www.youtube.com/watch?v=H3ZsBVtek7k']
Recognizing that charitable gifts can cripple local businesses and weaken developing markets by creating a damaging aid-based economy, we partner with World Bicycle Relief because their model empowers people to grow their local economies.  Through study and work to own contracts people are not simply handed a bicycle, they make a commitment that will magnify the impact in their communities.  The mobility provided by a WBR bicycle can multiply an individual's efficiency.  Compared to walking, bicycles increase carrying capacity and accessible travel distance while decreasing the time it takes to commute to and from schools, clinics and markets, improving access to education, healthcare and economic opportunity.  A bicycle is an inexpensive, sustainable form of transportation that can transform communities.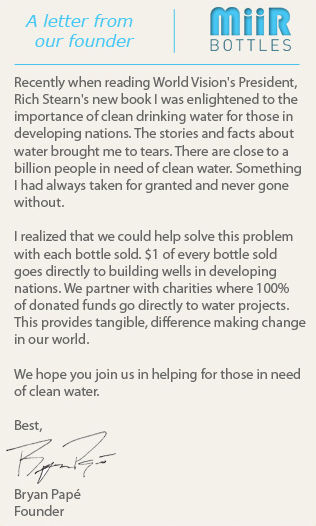 We partner with the Boise Bicycle Project to help provide access to bicycles in the US.  The BBP is a community-oriented effort to promote the personal, social, and environmental benefits of bicycling.  They believe that everyone should have access to quality bicycles as well as bicycle education, and they offer several programs to make that access attainable.  They do awesome work in the community and we are excited to help ensure they continue to do so.
Help Make it Happen
We need your help to make this project a reality!  To jumpstart our first production run we have launched a campaign on Givecraft.  For a limited time you can pre-order the MiiR bicycle of your choice at a special pre-sale price, or you can also join the campaign by grabbing a limited edition MiiR bottle, a limited edition poster or a hand woven Liberian bike basket that helps support a blind community in Liberia.  Your support and any level will help ensure the MiiR bicycle project gets off to a great start.  We hope you will join us in making this project happen!