Off the Grid Update: Day 63
I love this Day 63 update from my friend Rob Greenfield.  Rob is currently cycling across the United States and promoting sustainability along the way.
Off the Grid Bicycle Tour Update: Day 63
by Rob Greenfield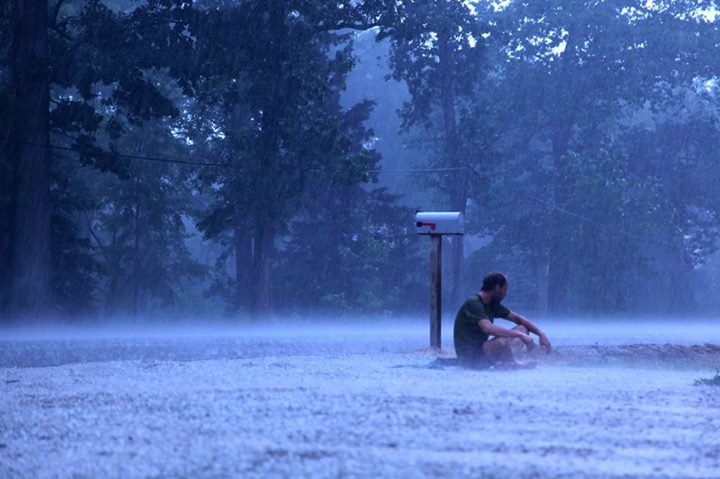 Embrace life, no matter what it sends your way.  Embrace the weather, be it rain or shine.  Rain, snow, sleet, fog, sunbeams, grey clouds or white fluffy clouds; It's all beautiful and it all serves a purpose on this earth and for us, the humans that populate it.  Without this diversity the earth, magnificent and beautiful, would not exist in the splendid form that it does. Remember to embrace all of the earth's offerings and every day will be more enjoyable.
If it's raining down on you, if you're sweating your balls off, if your teeth are chattering from the cold, if you're uncomfortable it means you are blessed with life.
If you see things you don't like your eyes are still working.
If your neighbors are too loud and keep you up at night it means your ears are functioning properly.
If you smell nasty cigarettes at a bar or a rotting animal on the side of the road it means your nose is doing its job.
If you feel those mosquito bites itching on your legs or your body aching from a long day of work at least you still have your sense of touch.
If that slice of pizza wasn't the tastiest you've ever just be thankful you've got a tongue to taste it at all.
If your heart is crushed it means you've still got the ability to feel emotions.
Life is a matter of perspective. Change your perspective today and you'll be living in a new world tomorrow.
Day 63: The Summer Solstice
My night sleep under the open skies was a rough one. I woke up many times subconsciously scratching the fresh mosquito bites on my body. Mosquitoes were poking me all night with their little beaks through the thin sheets and on my exposed feet and neck. In the late morning the air cooled off to the point where it was just slightly too cold for me to sleep comfortably. It warmed up around six with the rising of the sun and I got a few solid hours of sleep before waking up the heat of the day at 8:00. I was surprised to have slept for another two hours but I was grateful for the rest. The warm humid air instantly cheered my spirits and I was happy to be alive and well in this Gary, Indiana back yard.
Today is the first day of summer and I intend to honor it by spending nearly the entire 24 hours in the outdoors. I spent a bit of time in the backyard stretching and packing and hit the road at 9:30 after saying goodbye to my warmshowers.org hosts, Edward and Monica, who are Gary, Indiana natives. Highway 12 East was an enjoyable ride and much of the morning I found myself pedaling under the shade of trees through Indiana Dunes State Park. I had eaten the remaining bit of my food last night so I woke with an empty stomach and had to pedal until I find a grocery store. That 20 miles of pedaling was beautiful but very fatiguing as my stomach ached for food to energize my body. In Michigan City, Indiana I found a grocery store and loaded up on breads, cheeses, and pre-made salads from the treasure chest out back. It was certainly enough food to last me the day. I also had a 1.5 gallons of water with me as I had filled it up from the leaky hose in Ed's backyard. This water was from on the grid but it was water that would have gone to waste as it was just dripping onto the sidewalk. The idea of this trip is to have as minimal negative impact on the environment as possible and this method of harvesting water has no negative impact.
I plowed down a couple thousand calories and left the picnic table in front of the grocery store feeling quite lethargic. It was a hot day and my scorched body was yearning for water to aid in the healing of my toasty skin. My thirst has been insatiable for the last 36 hours. My body was calling me into lake Michigan all morning and I found a sandy beach that allowed me access to this great lake. I swam in the shallows cooling my warm body submerging completely repeatedly as my body desired. It felt so refreshing and invigorating that I had no desire to make my way back onto land but I knew that I had to move on. As soon as I got back on the bike the earth sent more water my way in the form of sprinkling rain. For five miles light rains fell down rejuvenating me with every drop and eventually ceased as I cut inland off of Lake Michigan.
The riding was smooth and I was making good time and then a wheat field presented itself before me. I walked through this beautiful golden field of wheat, arms spread wide, feeling the grains in my hands. This glory only lasted as long as I stayed oblivious to the massive rain clouds bellowing towards me at a rapid speed. I watched it for a while knowing that I was asking for it but was willing to take the risk of them opening up their wrath upon me. Once it was just about too late I bolted east to out run the storm. I scanned my surroundings for cover but was unsure if I would take it if I found it. I welcomed the rain. The winds swooped in from the west pushing me along at a swift pace keeping me just barely ahead of the storm. I watched the clouds speeding along above me and it was a fantastic sight to be seen. Even pedaling at a fast pace of 15 mph I could see how rapidly the clouds were moving along. This is what makes summer in the Midwest great, hot sunny days that are interrupted by boisterous thunderstorms that send water flooding through the streets.
When the storm caught up and released its fury upon me I took cover in an old garage at the end of a driveway. It appeared that they might be home but I ducked in anyway. The couch sitting inside enticed me but instead I prepared myself a sandwich and enjoyed it in the rain. I embraced the weather and soaked it all in as I watched the cars fly by on the highway. You could consider rain like this a burden but it is in fact a blessing with the right mindset. I waited out the storm in the garage for another thirty minutes and was back on my way around 5:00. But not before a man in a truck pulled in and said, "My wife called and said there is a crazy guy in his underwear in our driveway." I assured him I was not crazy, gave him my website and he headed back to work after saying, "You can stay in there for as long as you need. Just don't steal anything."
I was extremely tired from the lack of sleep last night and had a tough time finding the motivation to move on. Over the last few days I have felt somewhat of a yearning for the comforts of "normal" life. I've been on the road for two months now and it's been a long two months. I've crossed through mountains, deserts, more mountains, forests, and the Great Plains. I've passed through all sorts of urban environments and small towns. I've battled the heat and the cold and a wide range of climates and weather. Now here I am 3,000 miles and two months into the journey with another nearly 2,000 miles and forty days to go. What an adventure I have thrust myself into. I am up to the challenge but wow this is a big one. Had I chosen a direct route I would have crossed the country from coast to coast already. Even with the rest I got in Chicago my body still yearns for more. My mind has been longing to have a woman in my life. I wouldn't say I'm quite lonely but I also wouldn't say the company of my friend and cameraman, Brent, satisfies all areas of the mind either. I find often myself pedaling along listening to music and imagining the idea of having a woman by my side at the end of the long day to hold and to embrace. I ache to enjoy the simple pleasures of love but I do also remember that it is not always that simple and can add a lot of mental strain to my day. And I know for certain that is not a strain I can add to this journey.
As I pedaled on ideas for future adventures revved my engine and inspired me to pedal faster into the unknown. I flew down the road with my legs taking the bike as fast as it could go. This excitement only inspired me more and the ideas kept on budding inside my brain. I find that my bicycle on the open road is often the best place to find great levels of inspiration. I arrived in the small town of Edwardsburg, Michigan where I scanned the streets for a church or abandoned building to take shelter for the night. I was tired and ready to call it a night. As I sat down on the curb I decided to see if I could find a warmshowers.org host and I found one in Elkhart, Indiana just 10 miles south east right on the route. His name was Neil and he answered the phone and told me to come on down. He told me he's going to a solstice party tonight and that I am welcome to join or just stay at his house and rest. The idea of the party enticed me but I had to ask first, "How far away is it from your house." This was important, as I am not riding in a car for the entire summer, and he responded to this, "Oh you are a purist. I love that." He said it was only three miles and at this I knew it was going to be a good night among good people.
When I arrived at his home at 8:20 he was not home yet from Indianapolis and I took the opportunity to write about my day. The hour I sat there in his yard at the picnic table was very enjoyable except for the biting mosquitoes but I was very happy to have this peaceful time to write. When he arrived he greeted his two young children and showed us around a bit. The coolest thing about this haven for people who love to play was the rock-climbing wall that he built in his garage. He drove and I rode my bike to the party that was 3.7 miles away. It was an enjoyable night ride without a trailer and I was flying down the roads like an owl through the sky. The solstice party was enjoyable, although it was winding down when we arrived, and I had a good time conversing with these people from Elkhart, Indiana. Most of the people at the party were cyclists and they all marveled at my bamboo bike. It was a fun night and so was the ride home at midnight.
For more on Rob's incredible bike journey, follow him on Facebook or visit www.GreenfieldAdventures.org.
Photo by Brent Martin.