One Man's Junk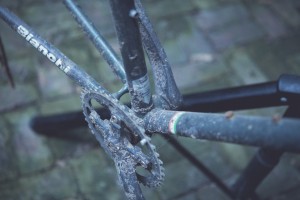 There's only two ways to head when cycling in Penang, at least from my place. One is south, and that's either towards the main city or the airport, neither a fun place to be first thing in the morning. The other way is north, and that's the less populated and more scenic route. It's no surprise, then, that I know the sights on the northern route quite well.
I don't know quite how many times I've cycled through Batu Ferringhi but I do know every time I do I see the same older Chinese man working on an equally as old, beat up clunker of a car. The first few times it was sitting with a bunch of parts hanging out the trunk. Every time I pass I think 'why is he bothering with that thing when it's about to fall apart.'
On this past Sunday's ride I felt quite guilty for thinking that. As I was riding down the straightaway I saw him get in the clunker, start it up and drive away, embarking on a test drive. He drove it a short distance to the stoplight before pulling a u-turn and heading back.
I've performed many similar test drives, having been quite a backyard mechanic back in the states. I should have seen how religiously every Sunday the man would be out working on it. Given how much time he spent, at least he thought the car worth the time and effort.
I thought my first car was great: a 1992 Chevy Corsica in white, with just a bit of rust on the roof and some pretty awesome 80's-inspired red plush interior. I had all sorts of plans for the car when in reality it was only worth the $500 I sold it for after two years. I had saved up quite a while at my first job to buy it, even before I had my license, so I had a strong financial and emotional connection to it. I was quite pissed when I called up an auto mechanic to see about replacing the whole suspension, only for them to question my sanity and why I would ever bother. That shop never got my business.
I've encountered similar incidents with other cars, and more recently my bikes. I love taking an old clunky bike from the rubbish bin and turning it into something rideable and unique. My basement in the US is full of old steel frames and their miscellaneous parts, hoping to someday see the light of day with a fresh coat of paint and a new owner.
This in mind, who am I to judge what's rubbish and what's a prized possession in the midst of a rebirth?
 – Ashley