Team Troll: Fighting Parkinson's With Their Bikes
We support everyone who is using the bike to do good things for the world.  Every so often we like to feature a company or cycling organization that does something cool….this time around we're highlighting Team Troll.  These guys look cool, and are definitely making it happen.
Team Troll
Parkinson's Disease is an ugly, intimate thing. Perhaps more than other diseases, the damage is visible. It is measurable. It is impossible to hide, deny or ignore. And it doesn't turn around. It does not stop.
With the same commitment, it is being fought. By bike. Team Troll, a mountain bike team based out of Grand Rapids, has collected dedicated racers committed to reversing the trend of PD making lives difficult. Sparked by his father's diagnosis in 2010, Scott Vanderstelt brought together his friends and area cyclist to join a team working to raise money to fund research and ultimately find a cure.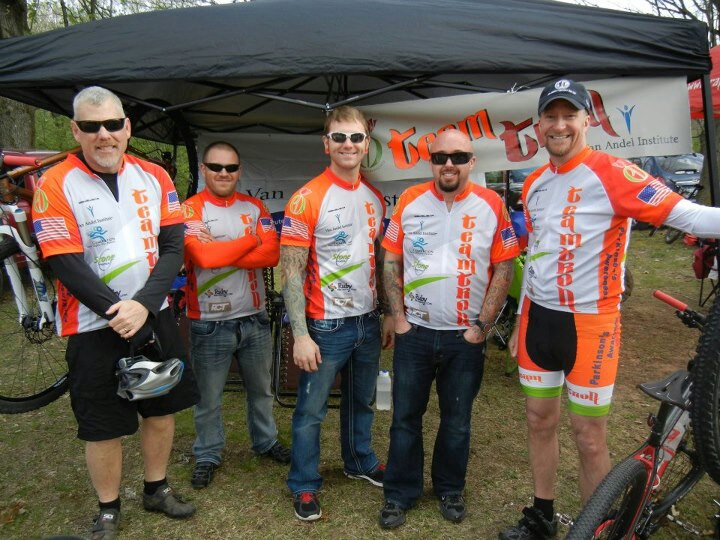 Maybe it's the ability to ride a bike, or the ability to love it, that makes bicycles such a valuable tool to fight disease. From all over the state, riders stepped up to wear the Team Troll kit, join in fundraiser rides, and spread the word about Parkinson's Disease. For Scott and his squadron of mountain bikers, there's a lot more to racing than the results. Every race, every ride, is an opportunity to build on the $10,000 they've raised through the Van Andel Institute. It's another chance to honor those with the disease. It's an opportunity, too, to forget all those things and to simply enjoy the ride.
For 2013, Team Troll is looking to do more in their efforts and to recruit some of the best riders in the state to get behind the message and team. Their orange and white kits are spreading across Michigan, while Parkinson's research has become a popular topic and fundraiser option for a number of clubs and organizations. It is a testament to the virility of cycling, the closeness of our community, and our dedication to each other.
For more on Team Troll, and to keep up with their efforts all season long, follow them at www.teamtroll.org on Facebook and Twitter.