The Scavenger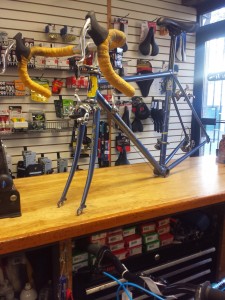 Growing up I used to go to tag sales and flea markets with my mom. I collect old cameras, so it was always a mission to find one, but anything I thought was neat would get picked up. I love going on the hunt for something, and it's no surprise that one of the shows I like to watch is American Pickers. The feeling of finding that one particular thing was so much sweeter when it meant sorting through loads of useless crap to find it.
The last few weeks I've been working on a couple of project bikes, while discussing with Sip Clip and Go's Karen Lynn about her quest to build a singlespeed cyclocross bike. I find the wintertime, at least here, is the best for swapping bike parts and thinking up new projects, since it's like Hoth outside most days. My goal this winter was to sort my Trek out for race duty in the summer, as well as find an old steel frame to bring back to Malaysia. I managed to make both those goals, and then some, picking up yet another steel Raleigh for my husband.
One of my favorite things to do when I'm in the Boston area is dig for parts in my local shop's basement. Every time I do I find something new; something I can use for a current or future project.  I've built many a bike from parts I've scavenged for, and it helps that there's a decent amount of stock. The problem becomes when my basement starts looking like the shop's basement. Oops.
Building a bike isn't something anyone should be afraid of. Of course I say this as someone with a background in working on cars, but really bikes are very simple, and anyone can put them together. The first bike I built was literally a product of the shop's basement. I had bought a cheap, older bike for the small frame, and used few parts from it, ending up creating a Frankenstein bike perfect for my (then) 13 year old sister.
I think the hardest part of putting a bike together is just gathering parts, hence my scavenging at the bike shop. Most shops have parts bins like that, and you'll never know what you'll find. Recently for my Trek I picked up a set of 105 brakes and Oval bars. This let me use the old bars for my Raleigh, and brakes for my steel Fuji frame.
While I'm now on my way back to Malaysia, leaving the cold weather behind, and my Fuji frame is lost amongst the baggage, I'm looking forward to the next time I can go picking at the shop. I still have a few frames to build…
– Ashley