Hashtag Tuesday: #cyclenerds
The name #cyclenerds conjures up a few different thoughts, but as it's founder @sarahstanley explains, the tag is intended "to get kids excited about riding a bike.  Maybe girls want to trick their bike out with ribbons & baskets. Maybe its getting the whole family together and going for a ride on beach cruisers."
And when you say kids, you mean us adult sized kids as well, right Sarah?  "Totally"
The first #cyclenerds tweet went out on January 19th and has just recently caught on in Twitterville.  "My friend Kate started the #runnerds tag and I thought it would be cool if we cyclists had one too. But let's face it, I just wanted to justify my bike geekness ;)" says Sarah.  The purpose of the hashtag is to create a lot of fun tweets about cycling and the "geeky" type things we do for our passion.


So what's next for #cyclenerds?  With a smile on her face, Sarah envisions great things for the tag and says:
At the top of the list is having a #cyclenerds Awards. Think Oscars, only bigger and better. I want to see #cyclenerds a top trending topic, because that is even better than getting an Oscar. Or a Golden Globe (is that what they are called?!) And what else? Well if I told you I would have to kill ya. Or make you ride 300 miles 🙂 – Sarah Stanley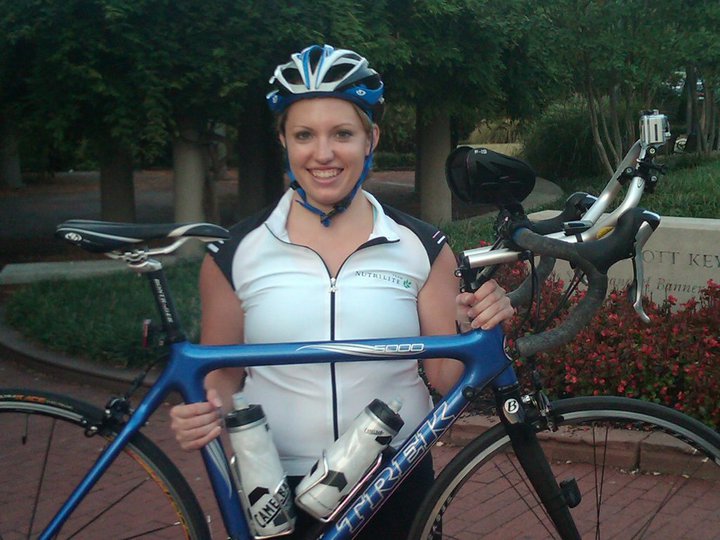 Sarah is a bit of a Twitter Hashtag addict and along with #cyclenerds you can find her tweeting out the tags #cycling, #winterriding, #hotcyclingchic, #bikechick, #bikelove, #hillsforbreakfast, #beactive, and #cyclingrocks.
Along with sending out cool tweets, she spends her days "training, writing, drinking water, working on various non-profit projects, helping others live a healthy life, speaking on such topics, traveling – basically a struggling athlete with a smile and a healthy side of snark :)".
Sarah rides a Trek 5000WSD (that stands for Womens Specific Design, not the grease can), but is not only a cyclist.  She's a pretty dang hardcore runner as well.  Sarah has ran 8 ultra marathons (with the longest distance being 100 miles) and the Double Boston Marathon in 2010.  Yeah, she's insane.
In late August 2011 I will be embarking on a cross country journey. Run Ride Inspire is a project I started to create awareness on healthy living, eating real food, helping others and of course spread the love of running or cycling:) I will be attempting to ride 50miles in each state and DC. Do the math. – Sarah Stanley
If you need motivation, real health/nutrition advice or a kick swift in the pants to do something, I suggest you follow her on Twitter (@sarahstanley or @runrideinspire), and be sure to check out her site: www.sarahstanleyinspired.com.
Come join the #cyclenerds nation! Go ride!