Is Stress Just Make Believe?
Stress – constraining force or influence: as
a : a force exerted when one body or body part presses on, pulls on, pushes against, or tends to compress or twist another body or body part; especially : the intensity of this mutual force commonly expressed in pounds per square inch
b : the deformation caused in a body by such a force
c : a physical, chemical, or emotional factor that causes bodily or mental tension and may be a factor in disease causation
d : a state resulting from a stress; especially : one of bodily or mental tension resulting from factors that tend to alter an existent equilibrium <job-related stress> (http://www.merriam-webster.com/dictionary/stress)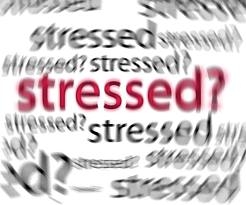 What would life be like without stress…even in the face of stressful situations?  Could you be more effective at what you do?  Would your quality of life change?  What would you say if I suggested that all the stress in your life is make believe?  I am not talking about the stresses of the physical universe, gravity and such…I am talking about the mental ringer we subject ourselves too, until I recently discovered, needlessly.
That's right, I am saying that if we are in a situation and become "stressed out" we are making it up…the situation is what it is, we MAKE it mean stressful therefore manifesting all that gobily-gook that gives context to the meaning of the word.  Are you thinking, "Dude has lost his mind"?  I get that.  Let me elaborate.
You're at work on a Thursday afternoon, the phone is ringing off the hook, your boss is breathing down your neck for a report that's been put off and put off because she has also been shoving other stuff in front of you, with higher priority; there are about 50 emails that REQUIRE a response before the end of the day and you STILL have a half-hour conference call to fit in somewhere.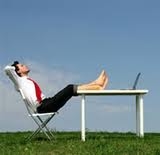 On top of this you spilled coffee on your dry-clean only clothes, the letter "R" is un-functional on your keyboard and it's national "My kids are selling something day" at the office.  Finally, the workday ends, you get to your car (bear with me I am trying to paint a picture) only to find a flat tire.  3-bloodied knuckles and torn trousers at the knee later you are on your way…to your place in line to get onto a freeway, which is backed up for umpteen miles because of an accident involving a truck carrying string cheese and Greek yogurt, YET you are as happy as can be.
Through all of this you've been nothing but smiles and worry free.  You did what you had to do and everyone was happy with you, why?  Because the next morning you are leaving on your dream vacation and nothing is going to spoil your day.  Now, imagine how much differently that Thursday might have gone if, on Friday, you weren't leaving for your dream vacation, but rather scheduled a job performance evaluation.
Where does the stress come from if we don't make it up?  Work is work and a vacation is a vacation, how we feel about them is entirely separate and up to us, in any given moment.  Think about how you feel when you are ON vacation and are suddenly reminded that tomorrow you have to go back to the grind…in that moment are you REALLY happy?
If all it takes is looking forward to something, well then I can't think of anything better than riding my bike every day, I always look forward to riding my bike, because it means I get to ride my bike.  Make it Happen.
Happy Riding…
– Joel