Make it Happen Monday: Pay Yourself First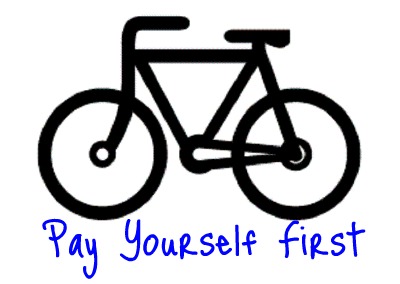 Do you ever find that there just isn't enough time to get your ride in during the day?  Just like they say in the financial world….try "Paying Yourself First".  I think I first heard that tagline way back in a book called The Wealthy Barber.  It was the first book I had ever read on the topic of financial freedom and although most of the content I read hasn't stayed with me, that Pay Yourself First line totally has.
Pay Yourself First – This simple system is touted by many personal finance professionals and retirement planners as a very effective way of ensuring that individuals continue to make their chosen savings contributions month after month.  It removes the temptation to skip a given month's contribution and the risk that funds will be spent before the contribution has been made.
But it's taken on a much different meaning for me along the way.  I feel it is most useful if you think about all the important things in your life, and then Pay Yourself First by making those the priorities, and making sure you always have enough time for them.  I'd assume that most people reading this are cycling fanatics….what do you do to ensure that you always have time to get your ride in?
You can take it a step further and make your personal health your number one priority….and cycling just might be one of the ingredients in making that happen.  But how come it's so easy to get tied up with your daily routine and stresses at work, and that ride just never seems to materialize?  Paying Yourself First with either an early morning ride, or creating a lifestyle that makes a daily ride possible will ensure your priorities stay in check.
What are your top priorities?  Let us know what you're doing to Pay Yourself First.