My TdF 2 Cents
With all the incredible coverage floating around out there about the Tour de France and all that has occurred, it's tough to add anything new or fresh to the mix.  But what the heck, seeing as we've now completed the Prologue and 6 Stages, I thought I would lay down a few thoughts and words.
My general overview would be that it's been a fairly calm first week.  Lots of crashes, some nice sprints, and a little bit of changeover in the yellow jersey….but all in all, I have an inkling to say that so far it has just occurred.  Now I say an inkling because although there has not been anything Earth shattering taking place, there is still that aura of magic that has filled the air.  There is just something about the Tour de France that sets it apart from any other cycling event.
Even an average stage where a break away occurs, followed by an attack, then a chase by the Peloton, followed by a sprint finish….feels so much more interesting and exciting when it happens in the Tour de France.  I can't explain it, but I know you feel what I'm saying.  The TdF is just plain old magic happening at top speed.
My 2 Cents:
We do have a Canadian in the top 5…not sure how expected that one is, but I was pretty shocked to see Ryder Hesjedal of team Garmin in there.
And the Lanterne Rouge that people for some reason like to track, is now Jesus Hernandez Blazquez of team Astana.  He just took the honors over in today's stage. This Red Lantern is for you, Jesus.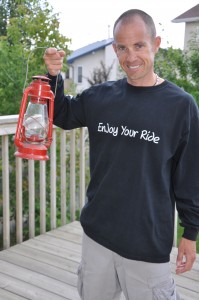 Please drop back on Monday when we'll be posting our insiders view of Stage 9…the first of the Alpine stages.  This is where things start getting serious and my buddy, Chris Russell, takes us up close and personal with the Col de la Colombière and the rest of the stage.
It's On.