Bike Repairs Using Your iPhone
We've already spoken about some of the best apps available for the iPhone. Today, I've invited Andreas from London Cyclist to share a little about his app, Bike Doctor with you guys.
Bike Repairs With Your iPhone
by Andreas
I've never been a technically minded person. I remember being somewhat baffled by even a simple puncture repair. However, as a cycling blogger I felt I should learn how to look after my bike myself.
I did what most cyclists would have done in my position. Loaded up Google and Amazon and went on the hunt for bike maintenance knowledge.
With a pile of books on my desk, I felt half the task was already done. Little did I know how confused I'd soon be.
The guides seemed to have conflicting information. When I'd become stuck I'd consult a different guide, but the steps seemed different. I was going around in circles and I nearly gave up.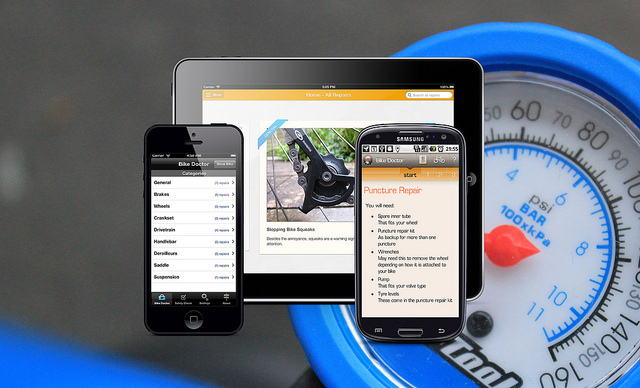 In the mean time Apple were busy releasing the first iPhone. Shortly afterwards came an iPhone with apps.
A light bulb went off in my head – this is the perfect device to have a nice simple bike maintenance guide!
I locked myself away and fought my way through 20 of the most common bike repairs. I'd consult the guides, write down my version of instructions and attempt the repair. Things would go wrong and I'd get researching again.
Eventually, I took my instructions to my local bike shop who I'd become good friends with. We sat down and went through the instructions. He was impressed with the simplicity.
Shortly afterwards I'd found myself a developer and we partnered up and created Bike Doctor version 1.
This went down a storm amongst my audience and we were soon hitting the top spots in the app store. It seemed people were longing for a simple guide to bike maintenance.
I kept improving the guide over the years and now Bike Doctor is available on the iPad too. There's still plenty to keep improving on the app but I'm proud of where it's reached.
You can get a copy of Bike Doctor by clicking here or searching the app store for Bike Doctor.
I'd also like to share with you some more bike apps that I regularly use on my iPad.
Bikemap
Those of you living in a cyclist-friendly city can find tons of unknown bike routes with the Bikemap app. Out on a leisurely stroll? Then let Bikemap tell what you bicycle routes are nearby and get all the necessary information including elevations, ratings, route descriptions and route distances.
Download it for free to your iPhone or iPad.
Cyclepedia
Want to know any and every thing about bikes? Let Cyclepedia be your guide. Take a look at different bike designs and enjoy a 360-degree view of each one to help you choose your next bike. Whether you're simply curious about the evolution of bikes or want to know which type of bicycle will enhance your performance, for just $6.99 the Cyclepedia app is bike central.
Ride The City
Planning a great bike ride between A and B is easier with the Ride The City App. Many major US cities are covered, with markings to show bike friendly streets. The app contains listings of local bike shops and cycle hire bikes.
TrackMyTour
This is one of my favorite apps. On a bicycle tour, you simply drop a pin every time you reach a destination and you attach text and images. You can then share this map with others or simply keep it for your own memories. TrackMyTour is available for iPhone and iPad.
Feedly
With the end of Google Reader, Feedly has quickly become the go to RSS reader. Simply add in your favorite blogs and read the latest updates on your iPad or iPhone.