Locking Your Bicycle 101
You'd think that selecting a lock and using it to keep your bike safe would be a fairly basic thing, but there's a lot more to it.  The crew over at Kryptonite are taking it upon themselves to make sure that cyclists make informed decisions with their bike security, and we're here to help push the message.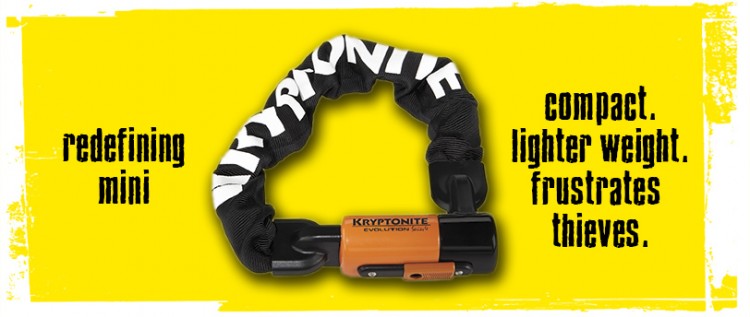 Depending on where you live, bike security can take on a whole new meaning.  I recently met some people from England who had their high end bikes taken from their house in the middle of the night…while they were in bed.  I many places, folks are having to resort to drastic methods, even going as far as installing a home security system to notify of any unwelcome intruders. While something like a Safemart home security system can easily deter a would-be bike burglar, sometimes it can be as simple as a good bike lock.
Making the Right Lock Choice
As you probably know, there are a lot of different options out there when it comes to selecting a lock. Chains, U-locks, cables, and a whole variety of combinations….but how do you select the option that is best for you and your cycling needs?
Kryptonite came up with this super helpful graphic that makes purchasing the right lock a piece of cake for any cyclist, no matter where you're located and what the situation is: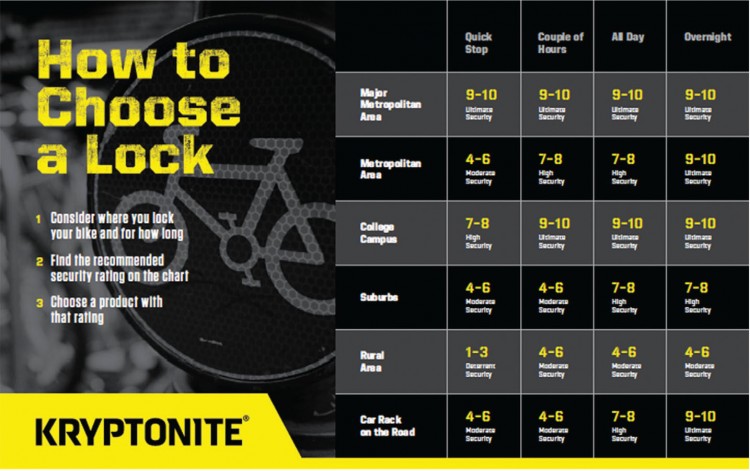 Making informed decisions is a huge part of the bike security challenge. "Knowing is half the battle" – G.I. Joe

Kryptonite
So once you determine what level of security you need for your lock, you can head over to the Kryptonite website and browse the options based on the degree you need.  The Kryptonite bicycle lock product page has a navigation panel on the left side with each of the various security categories.
How to Lock Your Bicycle
There is a lot of great information on the Kryptonite website explaining proper locking techniques for each of the different styles of lock.  Click here for details on Chain, U-lock, and cable locking techniques.
In addition to this, we'd like to leave you with a few more all-around helpful bicycle security tips:
Always lock your bike, especially at home. This includes your garage, patio, yard, college residence hall, apartment building, when carrying on a car rack, etc.
Lock your bike in a well-lit area where there are other bikes.
Do not lock your bike in the same location all the time.
Make sure your bike cannot be lifted over the object it is locked to.
Create a snug fit with wheels and frame so that there is little space in the u-portion of the u-lock for a thief's tools.
Do not lock your bike to itself – front wheel or rear wheel to frame.
Always position your u-lock with keyway facing down..
If you're only locking one wheel, it is recommended that you capture the rear wheel as part of your lock-up. Replacement cost for the rear wheel can be up to double the cost of the front wheel.