Nuun Energy: Should You Take it on the Ride?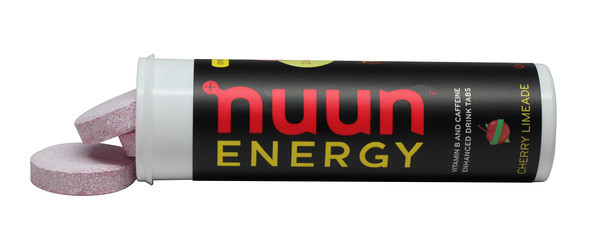 I've written before that I'm not big on all the energy drinks available on the market today.  I feel that water is the Mightiest Energy Drink of them all.  But I was recently asked to try out Nuun Energy, and seeing as I'm a Nuun fan I thought I'd give it a shot.
If you've been a long time follower of Loving the Bike, then you would know that one of the first posts I ever put up was about Nuun because I thought it was a great product.
Nuun Energy is the latest product from this company and includes electrolytes like the original Nuun, but they've added in B Vitamins and 40mg of caffeine.
What I like about the original Nuun is that it provides much needed electrolytes in a tasty drink that goes down nice and light.  So far Nuun Energy comes in three flavors – Cherry Limeade, Lemon Lime, and Wildberry.  All three of these include the same great and light taste, with Cherry Limeade being my favorite.
What Nuun Says It Will Do For You:

Thoughts from Loving the Bike:
Okay, so what's my on the bike experience been so far with Nuun Energy?  The first time I took it, I had a slight cramp during my ride.  I'm not certain if it came from the drink or was something else….but I haven't experienced the cramp any other times I've had the drink on a ride.
I drink coffee in the morning before my ride so I already am fueled with caffeine, but I thought the extra 40mg would give me an extra buzz for the ride.  I haven't felt any caffeinated kick in any of the 6 times I've had Nuun Energy on the ride.
If you are already an energy drink user, I would definitely recommend Nuun Energy over a lot of the other options on the market.  If you aren't, then I would suggest you go with the original Nuun instead of the new Energy version.
Have you tried it yourself?  If so, let us know what you think of Nuun Energy and how it's worked for you on the ride.