A Road Cyclist Enters the World of Cross Bike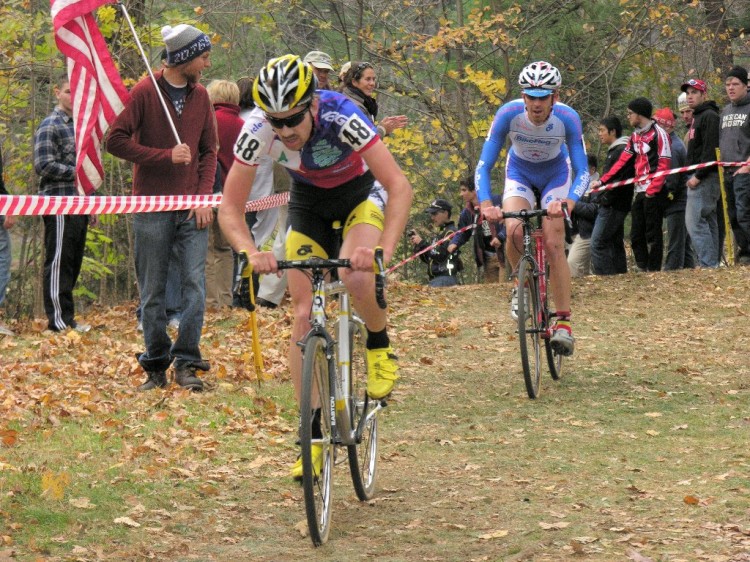 Over the past few years, cyclocross has continued to grow in popularity and this type of cycling has definitely grabbed my attention.  But until now, it has always just been something that interests me.
All over the world, there are road cyclists making the move to cross bikes (aka cx or cyclocross).  Some get into the racing side of things, while others ride non-competitively.
One of the reasons for my interest in cx is their versatility and similarity to road cycling.  Cross bikes have some of the geometry and aerodynamic benefits of road bikes, but take wider tires and are rugged enough for off-road and touring use.
I've always been intrigued by cx, but ever since getting to Grenada and living with the road conditions….I've been even more interested.
I know I'm not the only road cyclist out there wanting to give cx a try, so this post is intended to serve as a resource for all of you looking to do the same thing.  We're not going to tell you what cyclocross cycling is, but instead provide you with the information you need to enter the world of cx.
I'm just about to step into the muddy path of cyclocross, so I've asked Ashley Irving and Karen Lynn to help create this content for road cyclists getting into cx.  Be sure to check out their bio's at the bottom of this article.
First steps for getting into cx:
Get a Bike – Yeah, you can't get too far without first having a cx bike.  If buying one isn't an option at first, see if you can borrow one from a friend so that you can see how you like it.  Otherwise, buy a cross bike and get riding.
Do I really need a cross bike?  In my opinion, I think it's necessary to give you the full effect….but Karen says "not necessarily".  You can start off with a mountain bike.  They are perfectly legal to race with, as long as they are sans bar ends.  Mountain bikes are heavier and less elegant than a cross bike, but they hold up well on the varied terrain and are usually easier to get your hands on (especially if there is already one in your garage).  But, if you can borrow a CX bike and it fits you, it's a great opportunity to get accustomed to the slightly different bike geometry.
Core – The core section of your body is going to get worked more than it does on a road bike….especially if you get into cross racing.  So start whipping that core into shape.
Dismount and Carry – If you're going to get into cx racing, you'll want to practice your mount, dismount, and carrying your bike while running. Obstacles are a big part of cyclocross racing and something you definitely wouldn't be accustomed to on a road bike.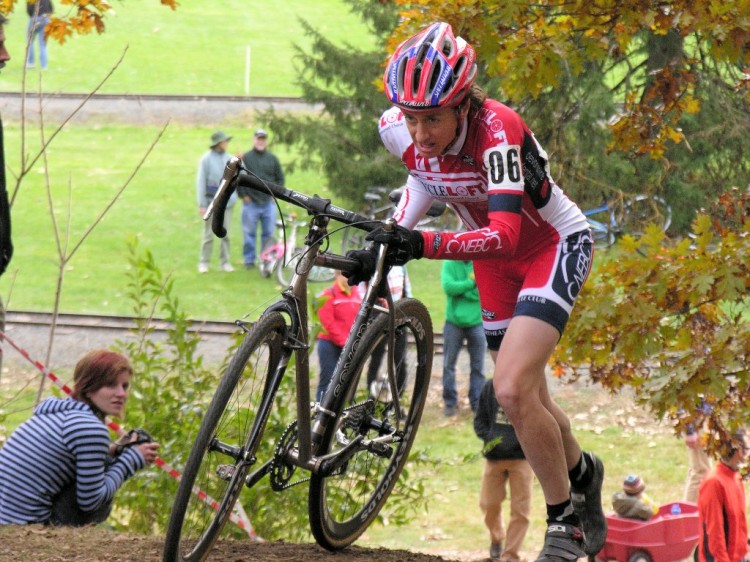 Biggest differences from road cycling:
Ashley says that one big difference between road and cx racing is that drafting isn't really a thing unless it's a very fast trail.  Also if you've never ridden a mountain bike before, be prepared to always wonder if your tire pressure is too low.  My first few rides felt like I was riding on a bouncy ball, but nope, that's normal.  Another big difference is you need to trust your bike more than on the road.  When I first started I got very nervous riding over anything that wasn't pavement because that's what I was used to. Now it's the opposite…I have to remember I can't ride over certain things on my road bike.
Karen says that one of the very different aspects of cyclocross compared to road cycling is how disruptive it is.  Road cycling is often a long steady effort.  Cyclocross courses are designed to keep you sprinting, braking, turning, dismounting, shouldering, running, remounting, climbing, cornering, and sprinting again.  Courses can be technical and will change over the course of a lap, meaning you have to pick new lines each time, explore new ways to get over that rise and then slam into a hairpin turn through 4 inches of soft sand.  This is what I have found people love most about the sport.  It requires fitness, technical skill, and good, quick decision-making. There are a hundred decisions to make each race and mistakes will be made. Part of the game is making the right decision at the right time, and making a few mistakes as possible.  One wrong choice can set you back 10 places or more.  This is part of the fun.
Challenges that road cyclists have with CX:
Road riding is usually long distance endurance, which is great, but cx is more about shorter efforts with a lot of intervals, so you need to train what you're riding for.
Ashley's Top 5 Tips for road cyclists getting into CX:
As with any sport, go practice. Join the local CX rides or races and just ride. Every CX course is different so you'll want to have experience with different terrains and conditions to draw upon later on.
Get a proper fit on the bike. With CX you can sometimes have a vastly different frame, and you're going to want to sit a bit more upright. With a sport this punishing, you'll want to make sure the bike isn't working against you. Case in point, my road bike is 49cm and my CX bike is 46cm.
Practice all aspects of the sport, from dismounts to remounts and carrying the bike over obstacles.
Find other people to ride CX with: A – it's way more fun to tear down a trail with a buddy, and B – it's a bit safer in case something happens in the woods.
Start working on your core. During the road season you may not have done this much, but it'll help immensely with cyclocross.
Bonus: It's never too cold or muddy or rainy or snowy to ride a CX bike. It's the most versatile bike you will ever own and you'll find yourself riding it all the time.
Thanks to Ashley and Karen for their help on this post.
Ashley Irving is one of our Loving the Bike teammates and also runs her own cycling blog at aerochick.  She like all types of cycling, but definitely finds herself on a cross bike quite often.  In fact, she just recently moved from the Boston area to Penang, Malaysia and has her cross bike there with her.
Karen E. Lynn is an avid cyclist, a single mom, a full time marketing professional, and an entrepreneur. In 2012, she founded Sip, Clip & Go! Coffee – an eCommerce business focused on gift coffee just for cyclists.  She also co-founded the Sip, Clip, & Go! cycling blog in 2007. After 13 years of riding mountain and road bikes, and watching cyclocross races safely from the beer tent, she dared herself to try a CX race "just one time."  She has been hooked ever since.  She lives in western Massachusetts.