Bicycles Eat Up a Hummer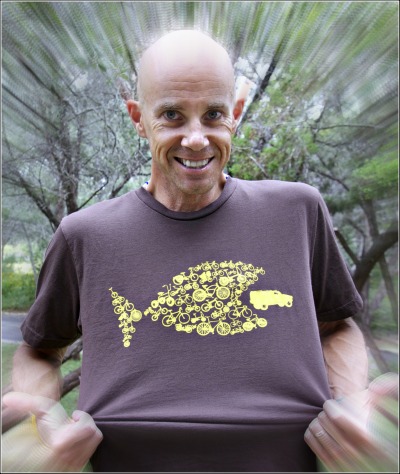 Give us your suggestions of how we can get more people out on bikes, and win one of these cycling t-shirts with a fantastic message.
A few weeks ago I was contacted by the guys over at Ban-T Shirts and asked if I'd like one of their new bicycle themed shirts.  I'd actually seen the design floating around social media and definitely thought it was something I'd like to wear.
It seems like all I ever wear is cycling t-shirts, and although I love being a walking billboard for the bike…..I'm also quite particular about which ones I put on.  A t-shirt has to be totally comfortable and feel good in order for me to wear it on a regular basis.  It can be the most super cool bicycle shirt ever, but if it doesn't feel right I won't wear it.
That fact is often a worry of mine when a new shirt is in the mail, but when this one arrived I was very happy with the fit and I've added it to my rotation.  As for what's on the shirt?  Yeah, it's pretty cool.  Would you like one of your own?
These t-shirts are manufactured and printed in the USA, made of 100% organic cotton, and if you don't win one here you can get one of your own at http://www.bant-shirts.com/bicycle-t-shirt.htm.  They come in men's and women's sizing, and it's also available in a hoodie.  Oh, and they've got a couple other cycling themed shirts over there as well.
Win a T-Shirt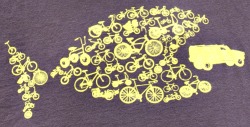 Thanks to everyone who entered.  We've randomly selected a winner and the t-shirt goes to Michael Hayes.  Congratulations, Michael the shirt will be out to you soon.
They crew over at Ban-T Shirts want more people to get on bikes and they have this quote to help promote it: "Get on your bike, stay healthy and let's keep our cities quieter and cleaner."
Leave a comment below with your quote or suggestion for getting more people to ride bikes, and you're in to win.  The contest closes on Monday at Noon EST.