Bicycles Highlighted on New Travel Channel Series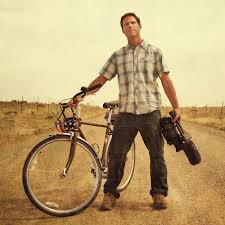 Bicycles have not been given enough screen time on television programs, but thanks to Ryan van Duzer that's about to change.
You've seen me post about Ryan several times here on Loving the Bike.  Over the past few years he's become a good friend and I consider him one of the greatest bicycle advocacy people on the planet.  This dude has bicycles in his veins.
His latest project is a bicycle adventure series being aired on the Travel Channel.  It's the first bike touring travel series produced by a major network, so you can imagine how excited he is….and me too.  Having bikes exposed to more people is always a good thing.
Ryan has put together 5 episodes so far, and every one of them was produced entirely on bikes…..even the camera guy rode a bike.  Pretty awesome, huh?  Well, the more views these episodes get, the more likely that the Travel Channel will give the thumbs up to more.  So please help spread the news, and let's all help bikes take over television programming.
Here's a look at one episode, and to check out the rest please visit: http://www.travelchannel.com/video/bike-tour-of-california-wineries.