Bike vs Flight
You might remember my friend Joe from a few cycling hashtag posts that he did for us a while back. Well, today he's caught up in one super cool event and I just had to write about it.
Due to a two day closure of the 405 Freeway in LA, JetBlue Airlines is offering people a $4 non-stop flight from Burbank to Long Beach to help assist with the road issues.  The local LA cycling scene was joking around about how the closure is no big deal when you're a cyclist and this all blew up to the incredible race that is taking place today….and it all started with this tweet: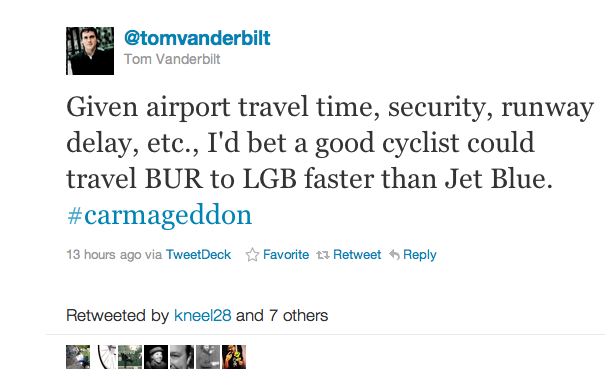 Local cycling group, the Wolfpack Hustle got on things and challenged JetBlue to a race between Burbank and Long Beach to show people that it's faster to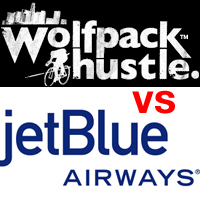 get there by bike than by plane.  Pretty awesome, huh?
It all goes down today and Joe will be riding on the JetBlue flight and covering things from the air.  You can follow Joe on twitter at @ohaijoe or check out his website at www.bikecommuternews.com.  You can also follow the hashtags #FlightVsBike and #CARMAGEDDON to get details as well.
I'm putting my money on the cyclists….we'll know the official results this afternoon.
This isn't the first time this kind of challenge has taken place.  Have a look at this race between a cyclist and helicopter that took place at rush hour in São Paulo, Brazil a couple years ago.
[youtube]http://www.youtube.com/watch?v=RKb7OZmwg34&feature=channel_video_title[/youtube]