Creating the Ultimate Cycling City
Have you ever stopped to think of all the great things you'd include if you had the power to design your own city?  Well, if you're a passionate cyclist you'd definitely want that city to cater to your love for the bike, and I know you'd make it as bicycle friendly as possible.
I asked our #bikeschool community this question when I hosted class recently and the responses were awesome.  One of the most interesting replies came from  Vince Marotte who shared this incredible video by Bill Nye.  In it, Bill explains all the cool bicycle related concepts and engineering he would incorporate into his ideal city of the future.
[youtuber youtube='http://www.youtube.com/watch?v=wlyHVQRiw1g&feature=youtu.be']
I love his wind tunnel idea, and totally agree that many of these concepts would be much cheaper than building more roads.  Here's a few other ideas shared by my #bikeschool friends.  Have a look at what they would want to include in their ultimate cycling city and then share your ideas with us as well.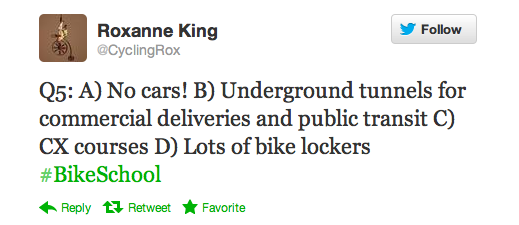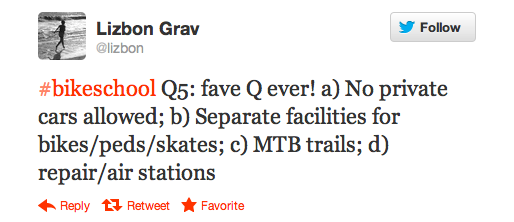 Your Turn
If you could build the ultimate cycling city, what kinds of things would it have?