Disconnected
I spent most of this week under the weather — in more ways than one! While Chicago experienced some of its coldest weather in decades, I was securely tucked under my covers in a cold-medicine-induced sleep. Achy and coughing, I avoided having to be outside during this arctic blast. But also by choice, I spent most of this week disconnected from the outside world while I returned to feeling normal.
I let my phone go to voicemail, didn't check Twitter or other social media, and watched very little TV. It felt good to disconnect for a few days (although I'm just as happy to be back). I was discussing this yesterday with someone and the subject of technology and riding came up. He was surprised that I don't use a computer when I ride to track every mile, pedal stroke, or achievement.
Nope. Not for me. I remember my "a-ha" moment, and since I haven't done much more than sleep this week, I thought I would share that with you. This is a post from March 29, 2011:
Freedom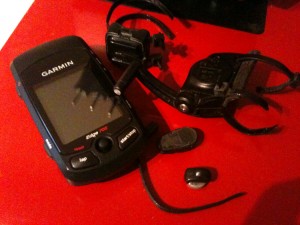 It's not often I have the chance to ride in the middle of the day during the week, but today I was able to get out for a quick spin.
I dressed and went about performing my usual pre-ride rituals: pump the tires, spin the wheels, check the brakes, make sure nothing rattles, drop a bottle into the cage, and attach the computer….uh…wait. Why am I doing that?
Habit. That's all it is. It doesn't make me go any faster or farther, or provide any additional motivation to ride. I don't ever leave my house with a pre-determined mileage in mind…I simply go out and ride until I feel like turning around. Sometimes that's two hours. Sometimes it's 30 minutes. I don't care how fast I'm going, and I don't need any motivation to ride other than my desire to do so. And I definitely don't need a computer to tell me when my legs are toast or my lungs may implode. My "internal computer" handles that just fine.
Truth be told, I've always refused to let those numbers dictate whether I'm having a good day or a bad day on the bike. Every time I get to ride is a good day, and that makes me happy. Which in turn makes me much more pleasant to be around. Simple as that.
So I removed it. All of it. Cut the cable ties that attached every part to my bike.
It felt a bit weird at first. It's always been there, and I readily admit that I loved having it last summer on my London to Paris ride. Seeing the numbers and what I accomplished over the four days was extremely empowering for a novice rider. But since then, it's been on my bike just because I have it.
Seeing my bike without all that added stuff was refreshing and seemed much truer to the simplistic beauty of the frame. I got over the weirdness really fast.
I may use it again should I choose to undertake another "epic" ride, but until then, it's just me, my bike, and the freedom I feel every time I hit the road.
Now that's empowering.
– Suzanne