F*#@ing Traffic Lights
Although I am totally Loving the Bike, I can most definitely live without having to ride amongst traffic lights.  If you know me at all, you'd know that you don't generally hear swear words coming out my mouth, tweets, or anything else….but I feel like I'm sometimes a completely different person when I'm on my bike and come across red lights.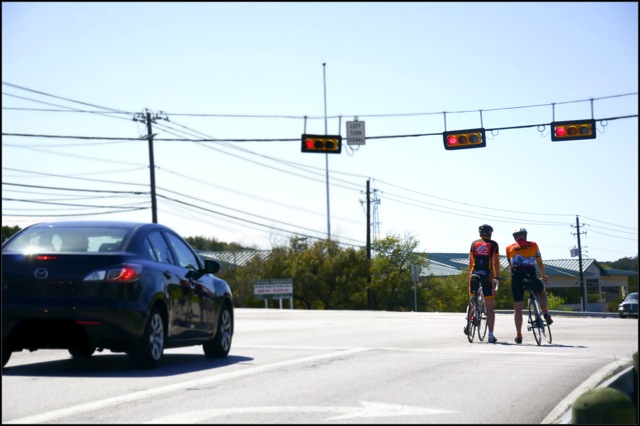 I really should have someone secretly video tape me sometime when I'm out on the road because I must look hilarious as I ride up to an intersection and need to stop for a red light.  It's like the "Anti-Darryl" comes out of me (actually, more like out of my mouth).  Dang man, you should hear the stuff I say when I've come across one too many red lights.  Well, maybe you don't want to hear it….and it's more of a one red is too many type of thing with me.
Watching a video might just be the only way to experience it, because in my Anti-Darryl state I'm really the only person around.
Now, when I'm commuting or doing some "city riding" I'm okay with the lights and know that they are just part of the territory, but it's when I'm away from major traffic on my road bike where the traffic lights drive me nuts.  I also do my best to get out on some nice country roads as often as possible so that I can free myself of the red light stops.
This isn't the first time I've brought up traffic and lights over at Loving the Bike and I know many of you are wondering why it's even an issue.  Maybe it's because I first took up road cycling while I was living in St. Kitts….an Island with absolutely no traffic lights.  Maybe it's because I feel that when I'm out riding, I want to BE riding and not standing there waiting for a light to turn green.  Whatever it is, traffic lights bring something out in me that only few things can do.
So as I make sure I search out more country roads and less light infested city streets….I'll see what I can do about chilling out and not letting these words float out of my mouth when I do come across a red.
What do you have to say about Traffic Lights?  Do you yell at them like I do?