Goodfluence Bicycle Tour: The Message Spreads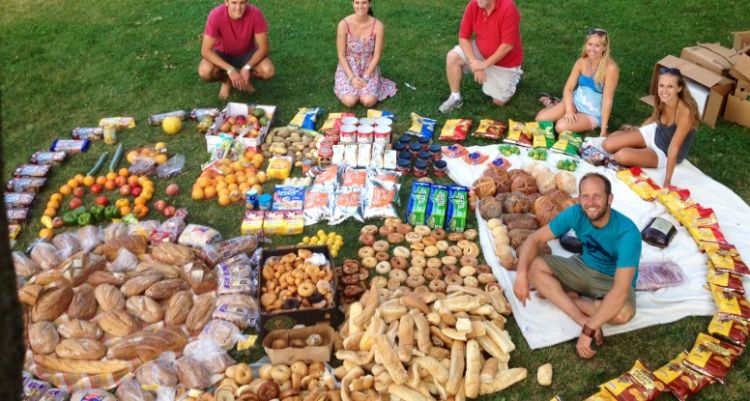 Just like the world influencers before him, Rob Greenfield is grabbing a lot of attention for all the good things he's doing.  Yes, my "Ghandi on a Bicycle" friend is really shaking things up as he continues his cross country ride.
One of the many things Rob is passionate about is the amount of good food that goes to waste each day.  In order to bring awareness to this, he's letting us all see first hand just how much waste there really is.
Last week while in Madison, WI he create a huge display of wasted food.  He collected heaps of "quality dumpster food" and his dumpster art was covered by local media.
[youtuber youtube='http://www.youtube.com/watch?v=4lKHK5nVTkk']
Here's more on the story from Rob Greenfield himself:
It's all clean. It all smells great. It's all perfectly good food. I mean come on; you would never guess that any of this came from dumpsters. Our intention for the evening was to make a shocking visual display of food waste but boy did it ever go further than that.
We were joined by reporters from around the city to help us get the word out about food waste. Madison's ABC, CBS, and Fox channels came out to report on the story as well as The Capital Times. They were all blown away by what we'd uncovered and their stories have been seen by Wisconsinites across the state. Friends and new friends came by and we hung out for the evening playing with all of the food and talking to all the passerby's who were curious about what was going on. Not a single person ever guessed that it was dumpster food. It was just too pretty.  
We had 100′s of pounds of food and we expected to have a lot of work to do at the end of the night to get rid of it but towards the middle of the evening something beautiful started to happen. People started to take some food. Then more people came and filled up whole bags to take home with them. Then an eleven year old a bike and his mom ran around town telling people to come to the park to get free food and more people showed up. Box by box the food was taken and each person walked away with a smile, excited for their bounty of food.  This simple act by my friends and I saved people $1,000′s of dollars, diverted 100′s of pounds of food from the landfill, inspired many people to end the waste, and proved to be a freakin' blast!
You see food is life and life is too precious to waste. At a time when 1 in 7 American's is food insecure it is shameful to food into dumpsters. It's a waste of money, precious resources such as energy, water, and fossil fuels, and it is a waste of life. So we're doing something about it. Because we care about our fellow American's and we know that you do too.  And we care about everyone who lives on earth and we know that you do too.
– Rob Greenfield
Bike2Power Powers Rob
Our friends over at Bike2Power just launched an updated website last week, to better display their range of iPhone and Smart Phone mounts.  With all the people out there using iPhones as their cycling computer these days, a good mount in vitally important.  The right mount will keep it secure on your bike, keep it from causing problems with your ride, and allow you to put your device in the ideal location.
Whether you're Ghandi on a bicycle, or creating a better life for yourself through the bike…..the products at Bike2Power will help you on the ride.