Holiday Gift Giving Ideas For Your Cyclist
Is there a cyclist on your gift giving list this year?  Here are some great options that are sure to light them up when they unwrap what you gave them.
I'm going to be completely honest and upfront with all of you.  I'm an affiliate for every product on this gift giving list, but if you know anything about me you'll know that I only endorse products that I completely believe in and are quality products.  Every item on my holiday gift giving list is 100% Loving the Bike certified and will make one incredible gift.
This gift list is made up of affordable options that any passionate cyclist should really dig.  Let's get shopping.
The List
I'm so happy to be teamed up once again with a great guy named Henry who lives in the small town of Moose Jaw, Saskatchewan.  Yes, Moose Jaw.  He's a Columbian refuge and an all around great guy.  He also happens to own a super cool t-shirt company and has an exclusive line of Loving the Bike T-shirts and baby onesies.
There are five different t-shirt options (both Men's and Women's cut shirts) and each design is available in your choice of 10 different colors.  Right now we have a special Buy One, Get One at 50% off deal until November 25th, and there's always Free Shipping Worldwide no matter when you make your purchase (to activate the BOGO place your first order, then you'll be e-mailed with instructions on how to receive additional items at 50% off).
Buy it Here: Loving the Bike Shirts and Onesies
I really don't know what else to call the items available at the Bicycle Gift Hub.  They have a bunch of great products and all of them have an undeniable bicycle theme.  There's everything from bicycle ornaments for the tree, statues and jewelry…and even bike shaped pasta.  They have hundreds of interesting and unique gift ideas so have a look around and see what catches your eye.
Buy it Here: Bicycle Gift Hub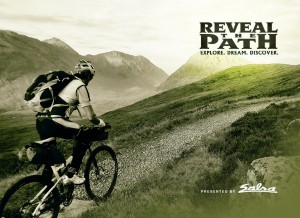 You probably already know that I really love the film, Reveal the Path….if you don't know how I feel about it, here's my review of this cycling (and life) adventure.
DVD's are a popular gift giving option, and any cyclist on your list will get viewing pleasure from this one all year round.  Not only will it entertain, but it will also inspire them to get out there and chase after their dreams.
Buy it Here: Reveal the Path
I don't mean to stir up the debate on cycling with music and earphones, but if the cyclist on your list uses an iPod then get one of these products from Far End Gear.
The guys at Far End Gear are cyclists and know how to keep you safe while enjoying your music.  They have earbuds that mix both channels of sound from a stereo audio device into a single ear, leaving one ear wide open to hear the sounds around you.  They also have Brite Buds which have a reflective cord so if you're riding in low light conditions you have one more source for being seen.
Buy it Here: Far End Gear
If your favorite cyclist is stuck doing their riding inside on a trainer this winter, get them one (or all) of The Sufferfest videos to entertain them and make them suffer.
Here's a little preview of one of the videos:
[youtuber youtube='http://www.youtube.com/watch?v=ZsiUXRDKCXE']
Regardless of your fitness level, if you want to get really strong and fast, then high-intensity intervals are the way to do it.  The Sufferfest's turbo training videos feature exciting cycling interval workouts, fantastic professional racing footage, great music and clear instructions.  You don't have to think – just get on, ride and suffer.  All videos are available by immediate download as .mp4 files (These are not DVDs).
Buy it Here: The Sufferfest Website
So there you have it.  A bunch of great gift ideas for those cyclists on your list…..and none of them are anywhere near as expensive as buying them a new bike.  I hope this helps you with your shopping.