I Learned This From a Runner
Do you ever get side cramps while out cycling?  I rarely get them, and I'm not sure what caused it today, but I had a pretty aggravating side cramp as I rode along.  As I pedaled with the pain in my side, I was reminded of a remedy I once heard from a runner….of all people.
A few months ago my friend was running in a 5k race and I rode along with her so that I could keep her company.  Part way through the run she got a side cramp and as she ran along with this pain on her face, another runner came by and told her to straighten out the opposite arm from where the pain was and squeeze her arm in a fist.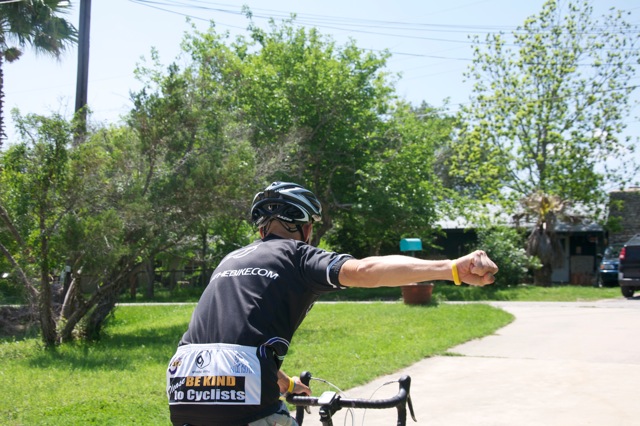 She tried it and then quickly told me that it seemed to be working.  We thanked the guy later on at the finish line, and that little bit of information has sat in the back of my mind until today.  So as this reminder came to me, I gave it a shot and put my arm to the side and stiffened it up.  The cramp seemed to go away and then a few miles later it came back again.  I tried the remedy again and this time it went away for longer.  Just towards the end of my ride it seemed to be coming back once again, but I was so close to home that I just finished off my ride.
Have you tried this before?  If you get cramps, you might want try this simple little trick…..but just make sure the cars behind you don't think you're signalling a left hand turn.  Maybe you've got other cramp remedies….what are they?