Last Minute Caribbean Cycling Getaway: Christmas 2012

If you don't yet have plans for Christmas, and would like to spend the week of December 23 to 30th on the beautiful Caribbean island of Grenada….we've got a fantastic bike adventure for you.
As you know, I'm now living on the island of Grenada and running a bicycle cafe, tour, and rental business.  Along with this, we also put on kick butt triathlon camps from time to time.  Our big one is taking place at the end of March, and I'll have more details on that very soon, but today I wanted to tell you about a little cycling holiday opportunity that just came up.
We've got one person coming in for the week of December 23rd to do some mountain bike and open water swim training with us.  He's getting ready for the Escape from Alcatraz Triathlon and needs to put in some quality time on the bike and in the water.
We've set him up with a great package consisting of accommodations, bike rental, airport transfers, coaching (bike and swim), and a bunch of other good stuff.  It's totally a last-minute thing, but we'd love to have you come join us as well.
Check American Airlines or Caribbean Airlines to get a flight, but the rest of it is all looked after by us……and you just have to know that you'll be looked after beautifully.
Does spending the holidays on this amazing Caribbean island, riding bikes  and chilling out sound good to you?  Let's do it.
Package Prices
The packages below include accommodations (7 nights including all taxes), airport transfers, Jamis Trail X2 Mountain Bike rental, Training (some just pointing you in the right direction, some with Darryl, some with Marc DeCaul and the Grenada Triathlon team), and more.  We can also set you up with good rates on tours or anything else you'd like to do while in Grenada.
(You're also welcome to bring your personal road or mountain bike with you….take US$100 off the package price if you bring your own)
We have listed prices based on single and double occupancy (bring someone with you or get paired up in a room)
Option 1: Grenada Gold
2 Bedroom Apartment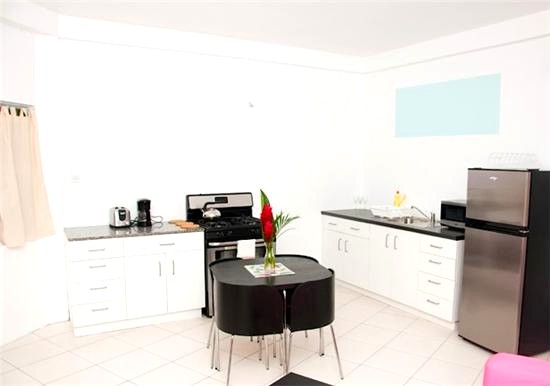 Apartment has a fully equipped kitchen—stove, fridge, microwave, and all cooking and dining utensils—dining table and chairs, comfortable lounge area with sofa and coffee table. Care has been taken to provide comfortable beds from the IKEA deluxe range, as well as modern sun-block blinds. All bathrooms have a power shower. In the lounge is a flat-screen TV with over 25 cable channels. Each apartment has air-conditioned bedrooms and its own small verandah. Linens and towels are provided for you.
Total Package Price       – US$1,309.00 Single Occupancy
                                                  – US$789.00 per person Double Occupancy
Option 2: True Blue Resort
Standard Room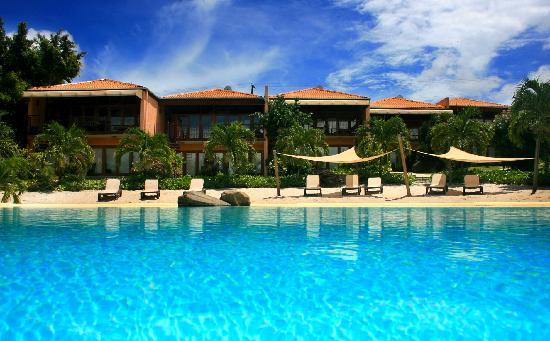 Includes balconies or patios facing the Bay and surrounded by gardens, these spacious rooms are decorated in Caribbean colors with teak furnishings and have fully equipped kitchenette, Cable TV, phone, ceiling fans and A/C. Option for king bed or two single beds.
Daily Continental breakfast buffet included
Total Package Price     – US$2,289.00 Single Occupancy
                                                – US$1,289.00 per person Double Occupancy
Option 2A: True Blue Resort 
Waterfront Suite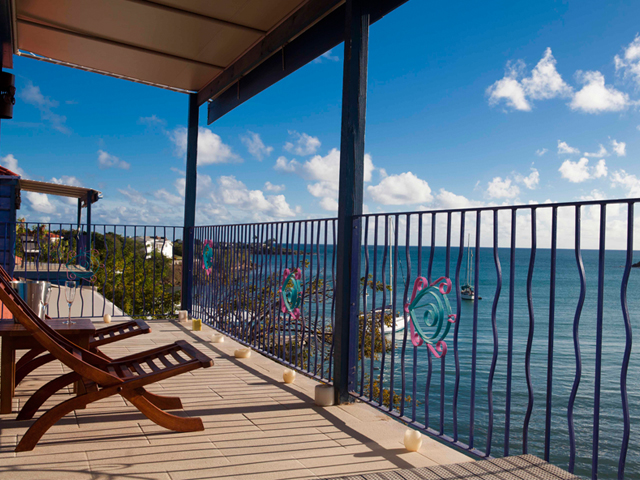 By the water's edge, specially designed to bring the natural beauty of True Blue Bay into a room full of Caribbean comfort and leisure. Featuring tropical designed furnishing, indulgent fabrics and easy going colours, these two level suites have relaxing living room, kitchen, dining area and generous balcony with comfy furnishings on the lower floor. The upper level has a queen bed, ample bathroom with shower and an intimate veranda with cozy outdoor chairs to seat and enjoy the astounding panoramic view of the Bay.
Daily Continental breakfast buffet included
Total Package Price     – US$2,889.00 Single Occupancy
                                                – US$1,589.00 per person Double Occupancy
Christmas 2012 is going to be a whole lot of bikey fun and we'd sure love to spend it with you.  If you have any questions or would like to book your Grenada bike holiday, please contact me directly at darryl@lovingthebike.com.