Life Without the Big Ring
It was just last summer that I was living life in the Big Ring.  Being in Saskatchewan and riding the flat prairie roads provided the setting for some great big ring riding.  But then when I arrived in the hill country of Austin last September, that was brought to a sudden halt.  It then become more like a part time big ring life with a striving for more and more time in the big gears.  But for the past couple weeks I had to live life without any big ring at all.
It all started with a few rides of having trouble shifting from the small to the big ring….and then one day it just wouldn't shift all together.  At first I thought my derailleur was shot, but then a second opinion by my friend Jamie of Reveille Peak Ranch found that it was actually the shifter that was the problem. Seeing that my bike is not quite two years old, Jamie recommended me using my twitter power and get the word out to Trek.  So that night I shot out a friendly tweet to @TrekBikes asking what they could do for me.
Before long they had tweeted back asking for more information and the next thing I knew they had DM'd me their e-mail address.  From there I was put in touch with William from Trek's Technical & Customer Service Center and he said they would take good care of me.  The only tricky thing was that I had bought my bike in Canada, but William said that Mellow Johnny's would look after it here in Austin.
I called Mellow Johnny's to make sure this was all cool, and one of their service dudes, Chuck said I just need to bring in the dud shifter and my receipt and I was good to go.  I have to put a great big shout out to Chuck as he gave me some super awesome service right from the first time I called, to me picking up the new part a week later.  Seeing as only the part was under warranty, MJ's would have had to charge me to put on the new Shimano and to re-tape my handlebars.  Being the cheap guy that I am, I decided to take it on myself….with the help of Jamie of course.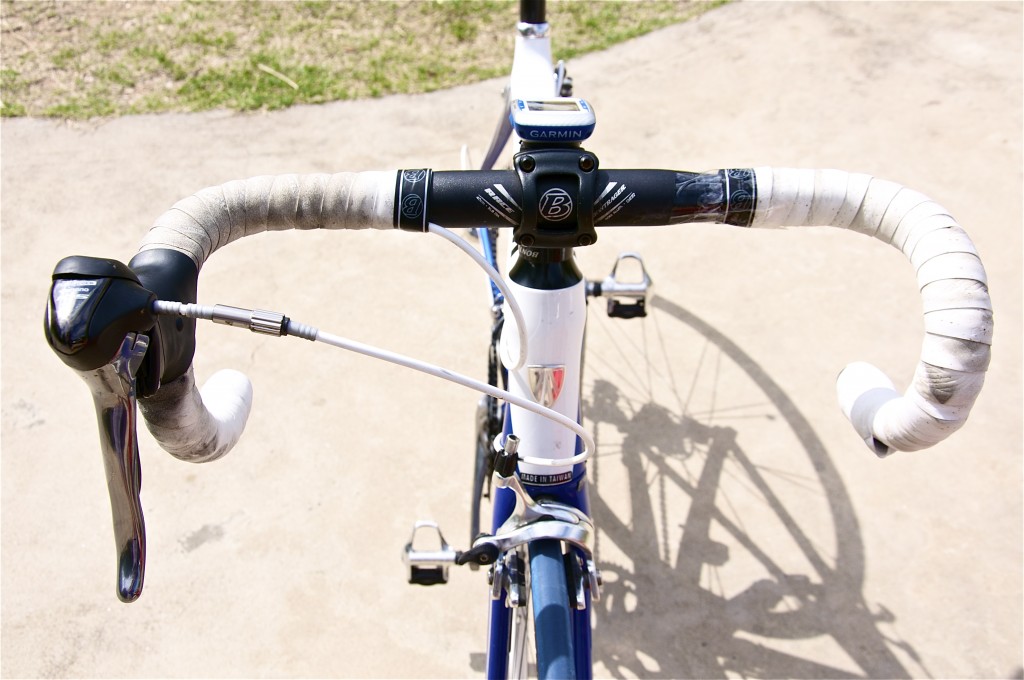 Oh, and while all of this was going on and I was waiting for my new shifter to arrive, what was my riding like?  Well, I did still take out the bike (minus one shifter and a front brake).  The first time I grabbed my handlebars it sure felt weird not having the shifter hood to grab onto.  I felt like my left hand was going to slide right off….I also felt like I was riding some sort of half fixie/half road bike.  I'm sure I had a few strange looks from other cyclists on the road, but at least I was able to keep on riding….without being able to shift into the big ring, of course.  This also gave me a good reason to take out "Tina Turner" a few times and I ended up putting more miles on her than she's ever seen.
The Trek is all fixed now and I'm back loving life part time in the Big Ring.  How much time do you spend in the Big?  Do you find yourself pushing to spend more and more time in it?
Big Ring photo courtesy of She Bicycles