Logan Square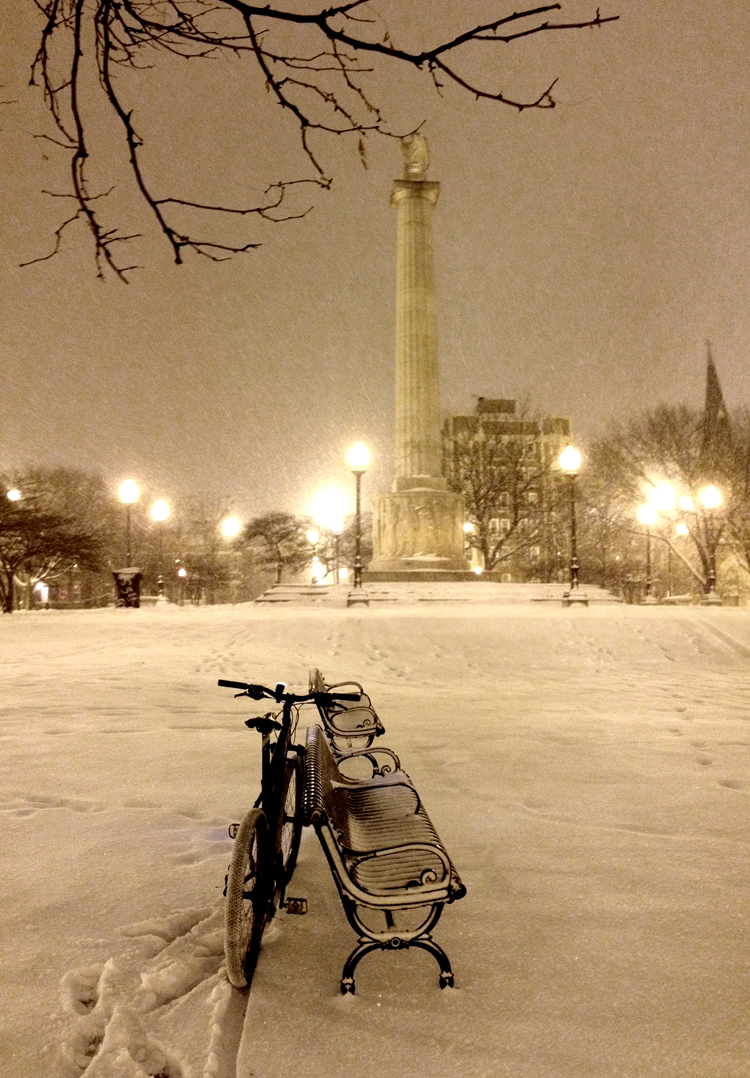 I wake early on Saturday. Instinctively I look toward the bottom of the bed for my dog – but he's no longer there.
Fully awake now, I head downstairs to pour coffee that has been timed to brew and is waiting for me. The aroma of freshly brewed beans fills my senses as I enter the kitchen.
I stand looking out the window at the falling snow. Those first sips of coffee warm my tongue and heat the fingers that wrap around my favorite orange cup. It's still dark, but a fresh blanket of snow illuminates the neighborhood and muffles the usual city sounds.
I take my coffee back upstairs and start to read the news to see what had happened since I closed my eyes the night before. But I'm distracted.
I get up and look out the window again. That fresh, beautiful snow is calling me. I pull on heavy tights, a couple wool base layers, and jacket, and run downstairs.
After clipping lights on my bars, I pedal away from my front door into the quiet of the pre-dawn morning. The only sound I hear is the crunch of my tires on soft white powder.
I don't go particularly far this day. Instead, I wander up and down the streets of my neighborhood, forging a fresh track down the middle of the street. It is an amazing morning to be out.
I stop at the Logan Square monument to take a photo, and as I pedal away the snowflakes triple in size and float around me. They land on my nose and my cheeks, creating prisms on my glasses as they melt.
I head toward home.
Once there, I sit inside on my bench and watch as the snow begins to melt and form puddles under the tires. And I feel both happy and sad at the same time.
Sometimes a ride is much more than just a ride.
– Suzanne