Looking At My Bicycle
Looking at My Bicycle
– Joel (@reasons2ride)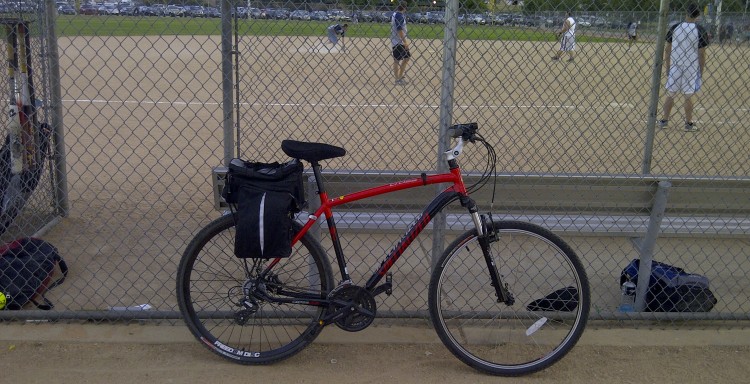 When I look at my bicycle I see two wheels, not just any two wheels, but my two wheels.  Custom built to suite me, and my riding style.  Rear disc brakes, just the confidence needed to push the envelope soaring downhill.  They are mounted to an aluminum frame with a stock front suspension fork.  Steel pedals allowing me to go clipless or ride with street shoes, attached to an aluminum crank system with 3-rings up front and a 7-ring rear cassette all connected with a steel chain.  The seat is a perfect fit for me and the handlebars have been ideal for thousand of miles.  There is an old but still functional rack on the back supporting a fold out pocket cargo bag.  I have further customized the frame with some graphics stickers to reflect my personality, but all that's just at a glance.
When I look at my bicycle I see balance, as in the way to find balance in life.  The way I can connect with my environment and be rejuvenated by the earth's energy.  It's freedom, happiness and pure joy.  It's work, so satisfying few words can describe.  I see a way to strengthen and build community by getting people out of cars, removing at least one of the walls we put up.  I see more people smiling and being more accepting.
When I look at my bicycle I see an angel of mercy, sent during my darkest hour and always having me present to how wonderful life really is.
What do you see when you look at your bicycle?