Meet the People Who Make Protected Bike Lanes Happen
Meet the people who make protected bike lanes happen
by Dana Henry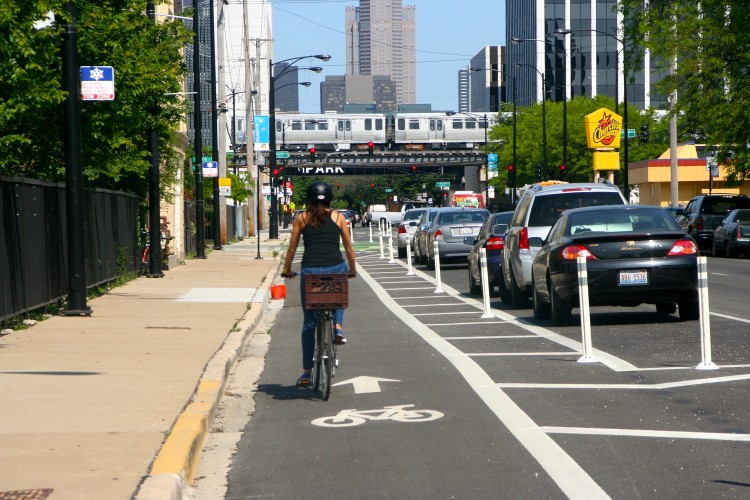 As a lifelong city cyclist, I'm simply thrilled to see a growing number of urban planning initiatives prioritize protected bike lanes. Urban dwellers and commuters are finally realizing that biking is a healthier, cheaper and more pleasurable way to travel. Thankfully, cities across the United States and the United Kingdom are responding by growing their cycle-ways. New York City, for example, nearly tripled their bike-lanes in less than a decade! Most of these are well marked, well guarded cycle-tracks that make it easy for novices to jump on the cycle bandwagon.
Better bike lanes don't just happen. People demand them. In fact, a recent study by New London Architects, indicates grassroots activism is the key ingredient to getting politicians to support cyclists. So we all, as cyclists, need to work together to keep our local leadership on point. Here are a some campaigns I find particularly inspiring:
1.  Love London, Go Dutch! – The London Cycling Campaign's (LCC) 
Since kicking off their initial campaign in February 2012, the LLC has gotten over 40,000 city cyclists to sign their petition. Love London, Go Dutch! has just one demand: Make streets of London as safe and cycle-friendly as the streets of Holland – the world's gold-standard when it comes to biking.  This organization has gotten behind major road renovations including a full redesign of Camden County's Royal College Street – which employed a clever device called Zebra Lane Blockers (or "armadillos") to effectively protect cyclist from traffic without eating into the road space. The redesign was fast and inexpensive. Already, cyclists are reporting a safer, more pleasant ride.
2.  The Green Lanes Project – People for Bikes
The Green Lane Project seeks to catalyze the creation of protected cycle tracks in cities throughout the United States.  In 2012, People for Bikes worked with six cities – Austin, Chicago, Memphis, Portland, San Francisco, and Washington D.C – to bring the combined number of protected bike lanes from 62 to 102. Less than one year later, that number is approaching 200! The additional infrastructure continues to bring value to nearby real estate, making protected bike lanes popular among both parties. The Green Lane Project is currently taking applications for its second installment.
3. The East Coast Greenway Alliance
The East Coast Greenway Alliance (ECGA) is working to establish a 3,000 mile network of bike paths that will link all major cities along the eastern seaboard. The organization acts as a liaison between local government, cyclists and advocacy organizations to establish ECG certified cycle paths that safely transport cyclists from one city to the next. In the process, benefiting cities and nearby communities gain local access to trails and protected lanes. The project is over 30 percent complete.
About the Author
Dana Henry is a writer and editor in Philadelphia who focuses on emerging business and technology. She currently works as a Content Strategist and blogger for the Traffic Safety Store.
Photo c/o peopleforbikes.org