Off the Grid Bicycle Tour Update: Day 48
My new buddy Rob continues to ride across the United States on his off the grid tour to promote sustainability and goodness.  He's a super cool guy and sure is a great advocate of cycling and mother Earth.  We've been periodically posting updates from his trip, and we'd like to share his journal entry from Day 48.
Off the Grid Bicycle Tour: Day 48
by Rob Greenfield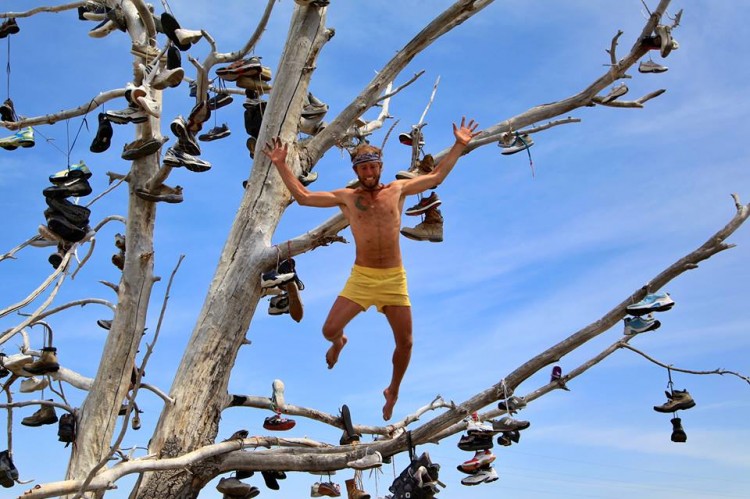 I woke up at 6:00 exhausted and definitely did not want to get out of bed.  I had no choice though as Dan wanted to lock up the house …when he left for work.  I was out at 6:30 and it was a bit chilly but the sun was shining and I felt really good about that.  I went for a morning stroll and hit the road at 8:00.
The sun peeked out from the clouds from time to time as I biked but was mostly hidden behind the clouds.  It was thirty miles to Iowa City from Williamsburg and having started my day at 8:00 I figured I would make it there at 11:00.  I traveled on the small farm road and had a pretty pleasant morning.  I was blessed to see a calf that had just been born within a few hours.  The placenta was still hanging from the mom and the baby was trembling on its shaky legs as it took its first suck from the moms utters. The mom licked the calf with affection and protected the calf from my view.
At 11:00 I reached Iowa City and I took a break for a bit to catch up with some people on the phone that had gotten some charge from the sun.  I walked down to the river where I would have liked to have gone for a swim but due to the flooded conditions settled with just washing my hands and face.
Next I stopped at World of Bikes (www.WorldofBikes.com) and they were nice enough to do a quick tune-up on Brent's bike.  Mine was not in need.  I spoke to them about installing a generator in the wheel to charge my iPhone and laptop.  This would make so that I am not dependent on the sun.  After all I am pedaling every day, I might as well be harnessing the energy that I am creating with every pedal.  They weren't able to do this job on the spot but they did give me some good insight.  I'm not sure if I can get a generator that will create enough power to charge my laptop but I will certainly be able to get one that will keep my cell phone battery charged at all times which will be a huge relief.  I stopped at the New Pioneer Co-op in town and filled up my honey jar with local bulk honey and grabbed some local organic vegetables.  I sat outside and nourished by body with the good food and soaked up the ambiance of Iowa City.
The afternoon was wearing on so I headed north on highway 1 with Mount Vernon in mind as my destination.  The partially sunny morning turned into a dismally cloudy afternoon and dampened my spirits.  The road had no shoulder and noisy cars and trucks whizzed past me and all the commotion put stress on my brain.  I continued on until I reached Mount Vernon where I stopped at a grocery store right at the beginning of town.  Before going inside I made a quick stop at the free outdoor section and loaded up expired Naked pomegranate Acai juice that had not even reached the suggested sell by date, peaches, grapes, strawberries, yogurt, loads of wheat bread, and bottles of fitness water.  Thousands of pounds of food was going to waste in their dumpster and this is becoming a common find for me.
It started to rain as I sat under a tree eating so I called up a warmshowers.org host and the man on the other line told me to come on over.  It turned out that my hosts, Richard Peterson and Shannon Reed were professors at Cornell College, which is where my brother Levi attended college. Having reached their house at 5:00 I decided to take it easy and enjoy their company for the night and discard any other things I had on my to-do list.  The two of them were absolutely pleasant people to spend my evening with.   They were big in to local organic food and living an earth friendly life and they had all sorts of delicious and nutritious offerings for me.
For the first time on this trip I allowed someone to cook me a meal.  This broke the off the grid rules as they used electricity, gas, and water to prepare the meal.  Water and a paper towel to wash and dry the lettuce, gas to cook the food, and electricity to ignite the gas stove.  The food was all local and organic including a salad of greens, radishes, and onions, a hamburger from a cow that was raised just down the street on grass, and asparagus.  I used some bread and tomato from the dumpster to make the burger into a sandwich.  They did an excellent job of preparing this meal in an environmentally friendly manner but nonetheless it still used some resources.
The real key to a sustainable world isn't to use no resources but to use our resources wisely and in moderation.  Thus I felt it ok to have this meal with them tonight.  It was so wonderful to sit and eat with these fantastic people and I don't know what I enjoyed more the interesting intellectual conversation or the pure local food.  They were two of the most enjoyable people I have spoken to on the trip and it may have been the most enjoyable night of the trip yet.  Good conversation, good food, fun, and knowledge gained from food to politics, to university statistics.
At 10:00 I used the 10% battery on my computer that I had managed to get from the solar panels during the day and finished up my blog from the past two days.  I got to bed around 11:00 feeling beyond exhausted.
For more on Rob's incredible bike journey, follow him on Facebook.
Photo by Brent Martin.